On the wall: Mid Summer Breeze from W.Collective Collection, Bespoke Mural

Renovating and moving into a new place is infamous for being challenging and, least to say, a whole different ball game when you are doing it during the pandemic and for a massive Jumbo flat.
For the unaware, the Jumbo flat is a unique Singapore residential housing that features a combination of 3-room and 3-room, or 3-room and 4-room HDB flat that is adjacent to one another. This type of housing was an initiative by HDB to encourage multi-generational households to stay together and accommodate larger families.
With their newly-owned jumbo flat, a vision to create a cosy modern luxury home and the challenges of the pandemic, Jean and Kovit have surely got their hands full.
Read on and peek into their gorgeous home, captured by Beautiful Homes, as they share their renovation journey with us!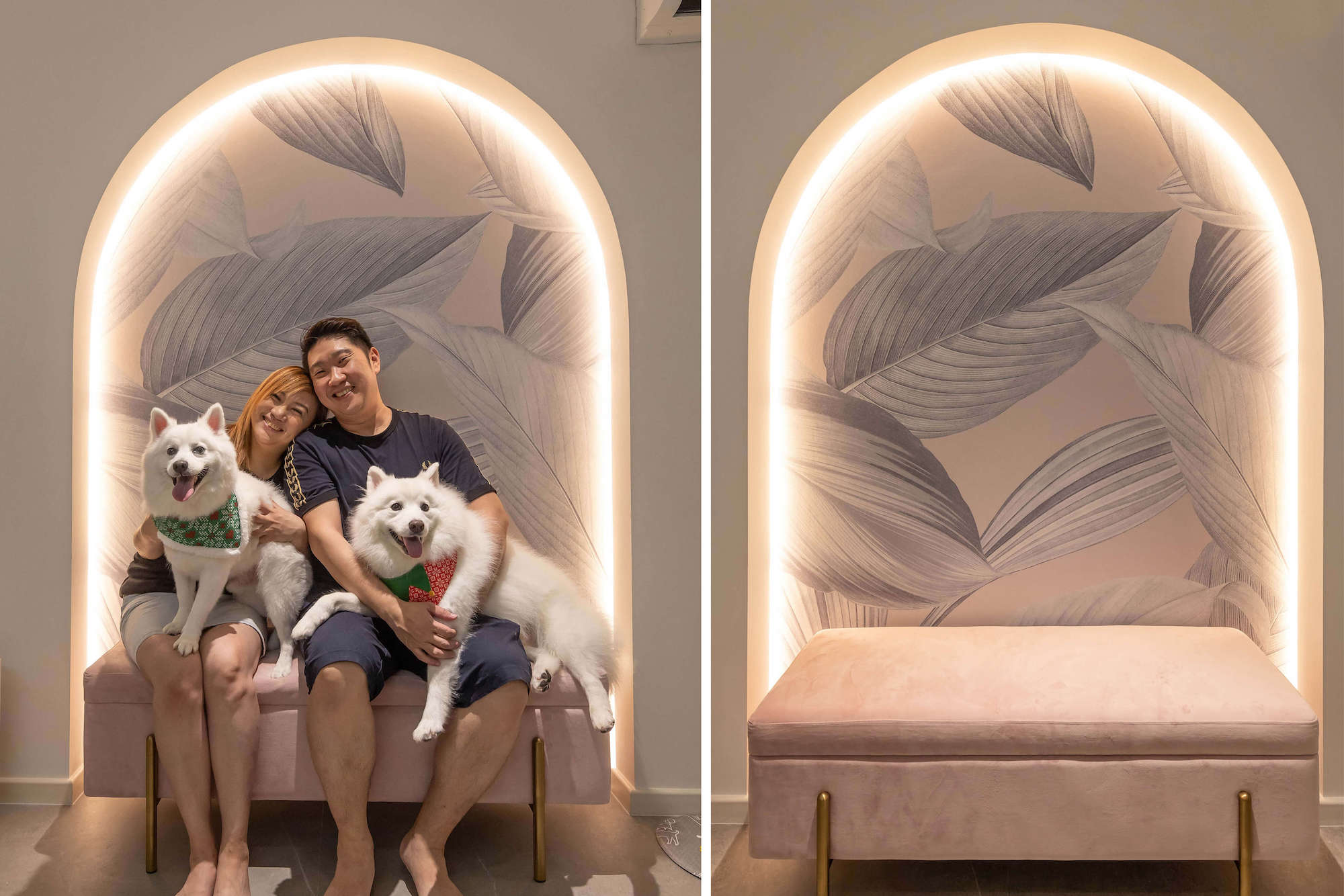 On the wall: Mid Summer Breeze from W.Collective Collection, Bespoke Mural
Ko Vit: In the previous house, during the pandemic, we have issues with working from home. We don't have the proper room, and proper space to work. And we really have no space for all the storage. So when we look for the house, we were specifically looking for a bigger house.
Jean: We love to host, so we often have a group of friends coming over. So I think it would be very nice to have a large living hall and dining space.
Ko Vit: We are also not very active owners who will bring our dogs out on walks every day. So we thought that if we have a bigger space we can make them run in the house rather than make them run outside the house.

What was your main goal when designing this home? What did you want to achieve?
Ko Vit: Initially when we sourced out for the place right, my idea was to have something very simple, maybe a bit more modern in look. Of course, after that through the conversation with the interior designer, the whole idea evolves.

Why did you choose the 80 studio?
Ko Vit: For our ID, they actually got back to us first. We signed on the first night when we met actually. I think there was a lot of chemistry, and also they are dog owners. So they understand the needs of our new house. Our designer is Andy, from the 80 Studio and his wife's name is Noora. They can understand the need for us to have a certain design in a certain way because it has to be a dog-friendly place. That was also why we signed with him on the very first meet-up session.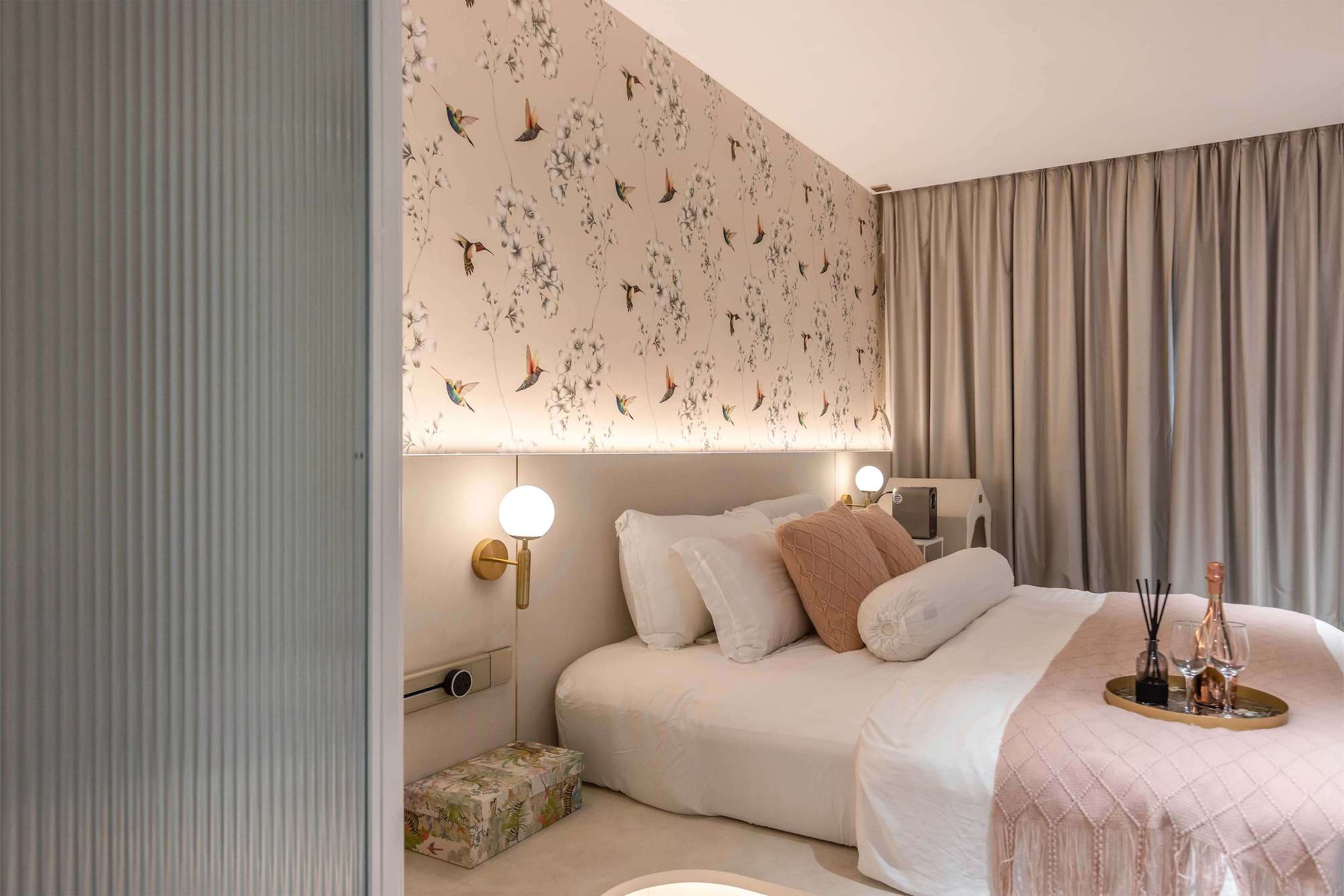 On the wall: Hydrangeas & Hummingbirds in blush, European Collection, Wallpaper
How did you find out about Wallhub

?
Jean: It was our ID who recommended Wallhub. I think a lot of their customers actually chose Wallhub. We actually went down to choose the designs and we were very wow-ed by the variety of designs. I was very pleased by their selection and the service as well. They helped us filter out the catalogues that suit our theme. Together with our ID, we made this selection.

What made you choose wallpaper?
Ko Vit: When we visited our ID at their place, we realised that their house has got wallpaper done up as well. We thought that wallpaper could potentially be one of the options for us to bring up some of the aesthetic parts that paint could not.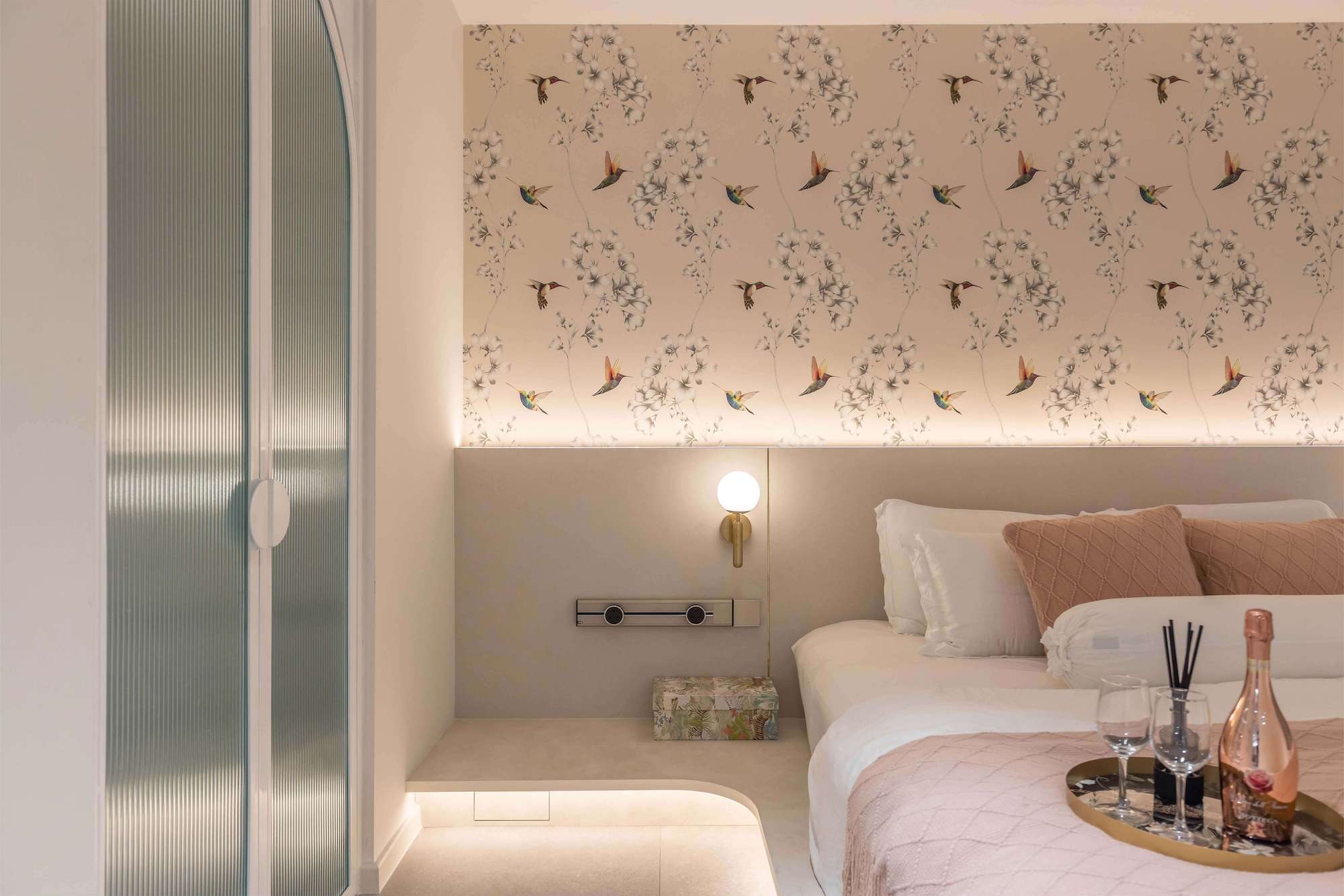 On the wall: Hydrangeas & Hummingbirds in blush, European Collection, Wallpaper
How was your experience with Wallhub?
Jean: They were very quick to respond to our needs. You know when I saw some wallpaper on Wallhub's website, it didn't carry the colour that I wanted. So I actually texted the sales consultant and she actually helped me to source for it. The overall interaction with Wallhub's service staff was very pleasant.
Ko Vit: When they were down here for the installation of the wallpaper, I feel that their installers are very professional. They will actually advise us accordingly what are some of the potential things that we will need to look out for when they are putting on the wallpaper. In our main bedroom, cause it is an old house, the wall is not exactly flat.
When they have to install the wallpaper on the platform bedhead, very much on the spot they have to help us think of solutions, which I am very grateful that they have done.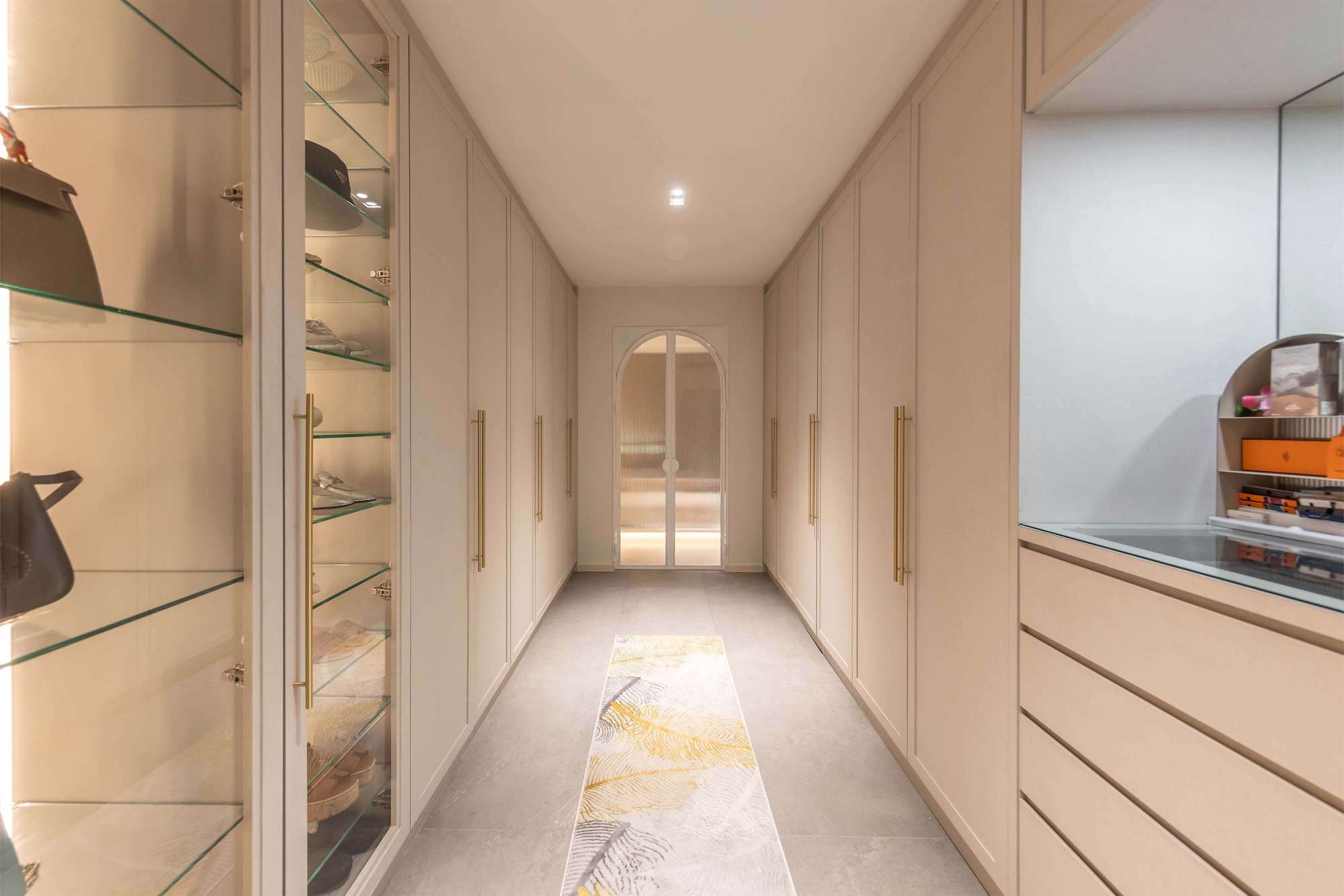 What is your favourite memory in this home so far?
Jean: So many….
Ko Vit: Moving into the master bedroom, officially!
Jean: Watching my walk-in wardrobe grow. HAHAH!
Ko Vit: Jean shared earlier that we were staying in the guest room when we initially moved in. I thought that was cosy, but ultimately it does not feel like it's our house. So when finally our master bedroom is ready to move in, we slept in the room for the very first night, I thought that is the point that I think – It was really our home. So that's the best memory so far.
Jean: For me, cause I was quite comfortable in the guest room. Anywhere with aircon is good for me. I have a lot of stuff that is still in the warehouse or still at my friend's place. And when I saw the wardrobe slowly being organised and clothes being put in, I was quite grateful for that.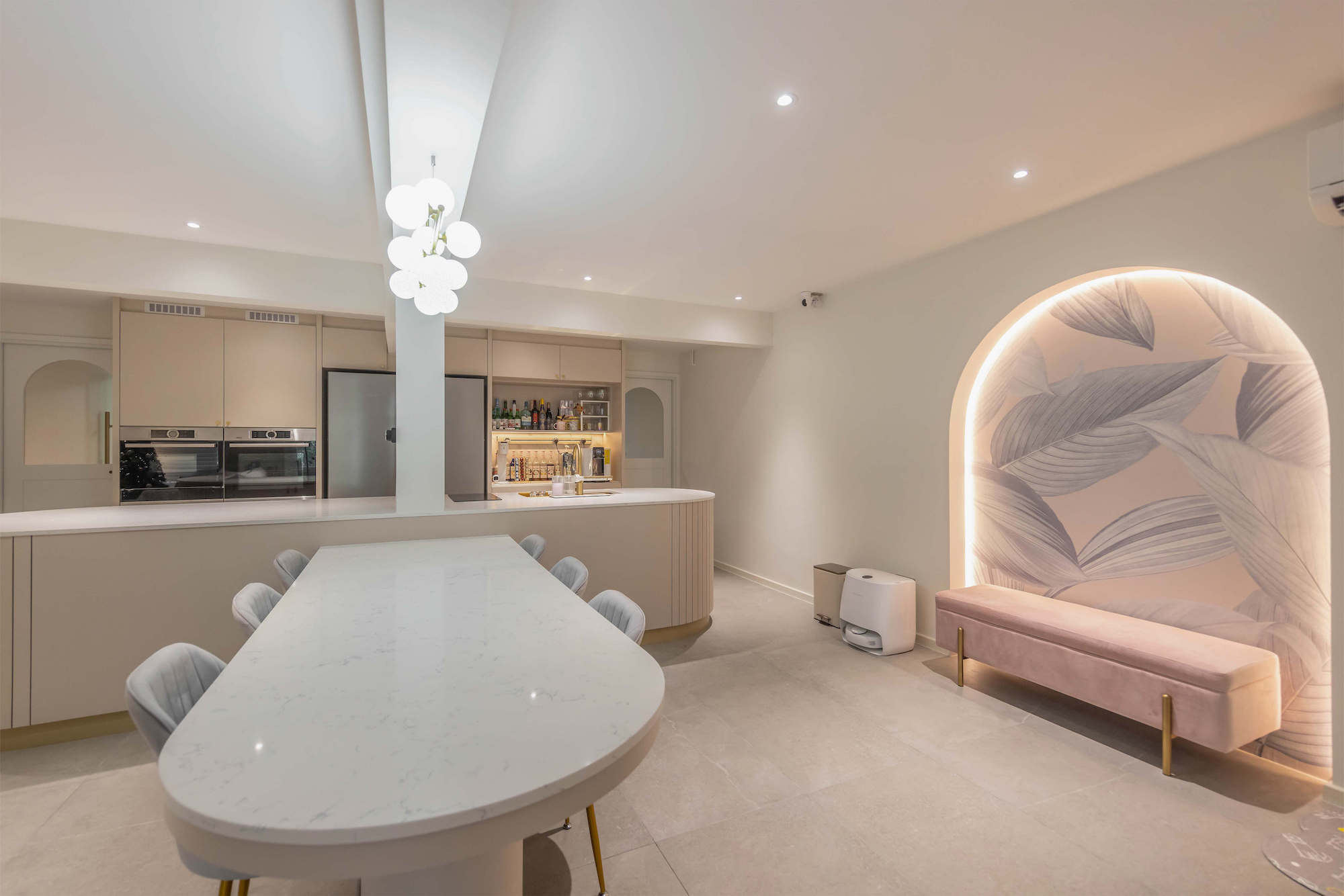 On the wall: Mid Summer Breeze from W.Collective Collection, Bespoke Mural
What was the biggest challenge in designing your home?
Ko Vit: I would say it would have to be the balance between being creative and having the functional aspect of things. One is the ease of cleaning up and the other part is storage. At the TV console portion, it wasn't designed to be a TV console. Rather it is just an arc with wallpaper.
When we looked back at our initial reason why we need to move is that we needed more storage space. So then, we had to review the design to see how many functions can this place have for me. So that is the part that we have to always balance out. Sometimes when it is being nice, the function wise you would have to let go a little.
Jean: I am the impractical one so, I just want it to look nice.
Any regrets about your renovations?
Jean: I mean there are things that we may change or tweak, but other than that, we really like this house. Just to share a really cute experience – in the past when we were travelling, when we were staying in our BTO, I don't really miss the house so much. I will miss my dogs but not the house. But when we went overseas for quite a while in October, I actually started to miss the house, the bedroom, because it was just so cosy.
Ko Vit: I feel that there are no regrets in the design of our house in the sense that, when we got this house and we plan for all the reno works and all that, we kind of think through how we like to use each individual space rather carefully. Very much when all the spaces come out, it is more or less the thing we are looking out for already.
If I really have to point out any regrets, it would be that we have to get the house during the pandemic time. If not, we would have completed our renovation work way faster than it is.
For more peeks into the lovely spaces of #homewithwallhub, head on over here!