Home to two and their adorable Tabby Maine Coons, this relaxing apartment features a stylish mix of botanical prints, refreshing greenery, and design elements of Zoe and Wen's favourite places.
Today, on Home with Wallhub, we are lucky to have Zoe to share with us their ideas and considerations which shaped their home to one that exudes the warmth of their family as well as an extension of who they are as individuals.
Read on to find out more!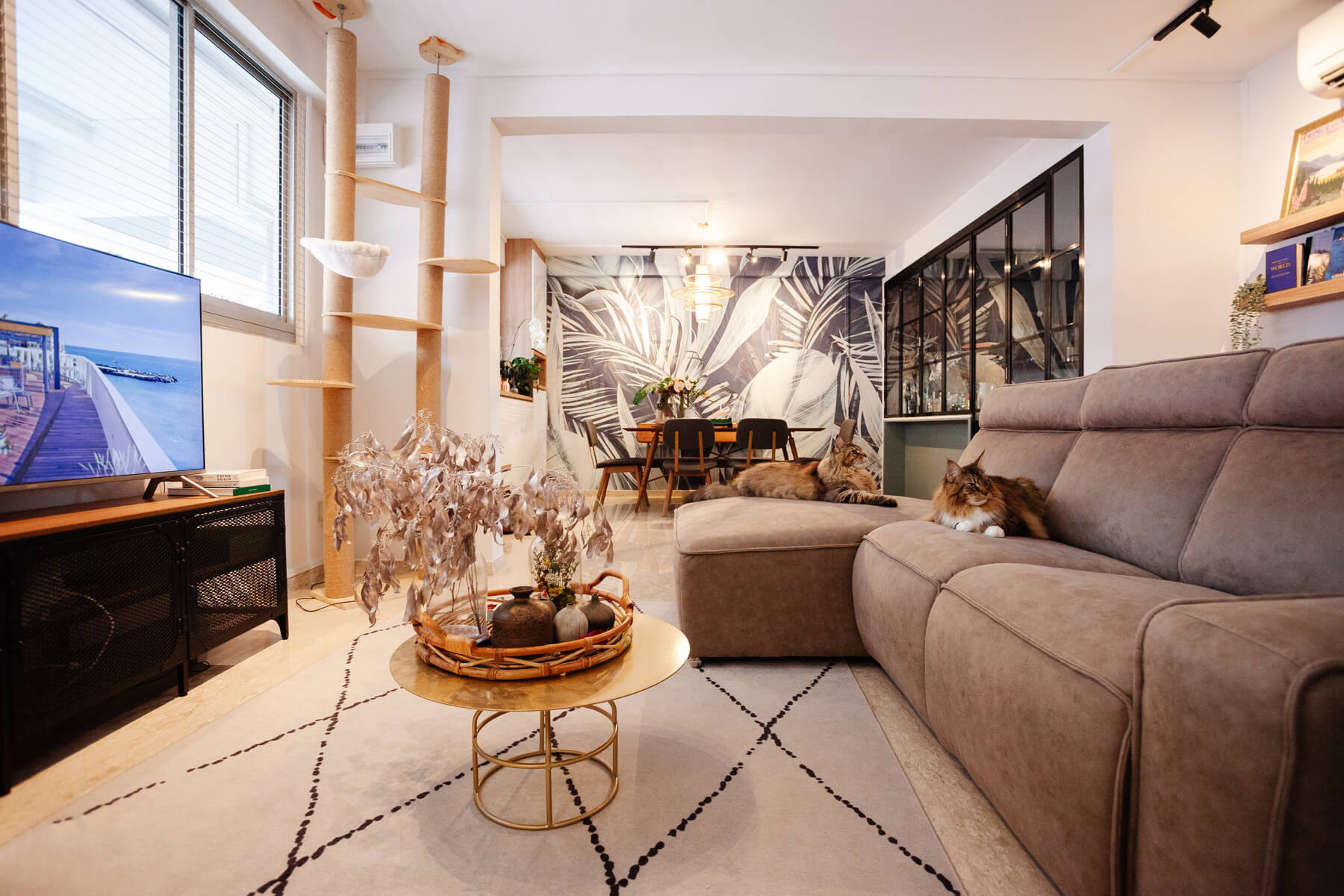 Wallhub: Hi Zoe! Thank you for taking the time to share your home and interior styling tips with us. Would you tell us a little about yourself (and your family), and how long have you been living in this gorgeous space of yours?
Zoe: Hi Wallhub, thank you for featuring our home and having me too. My husband and I (together with our two little lions) have been calling this place home for about 2 years.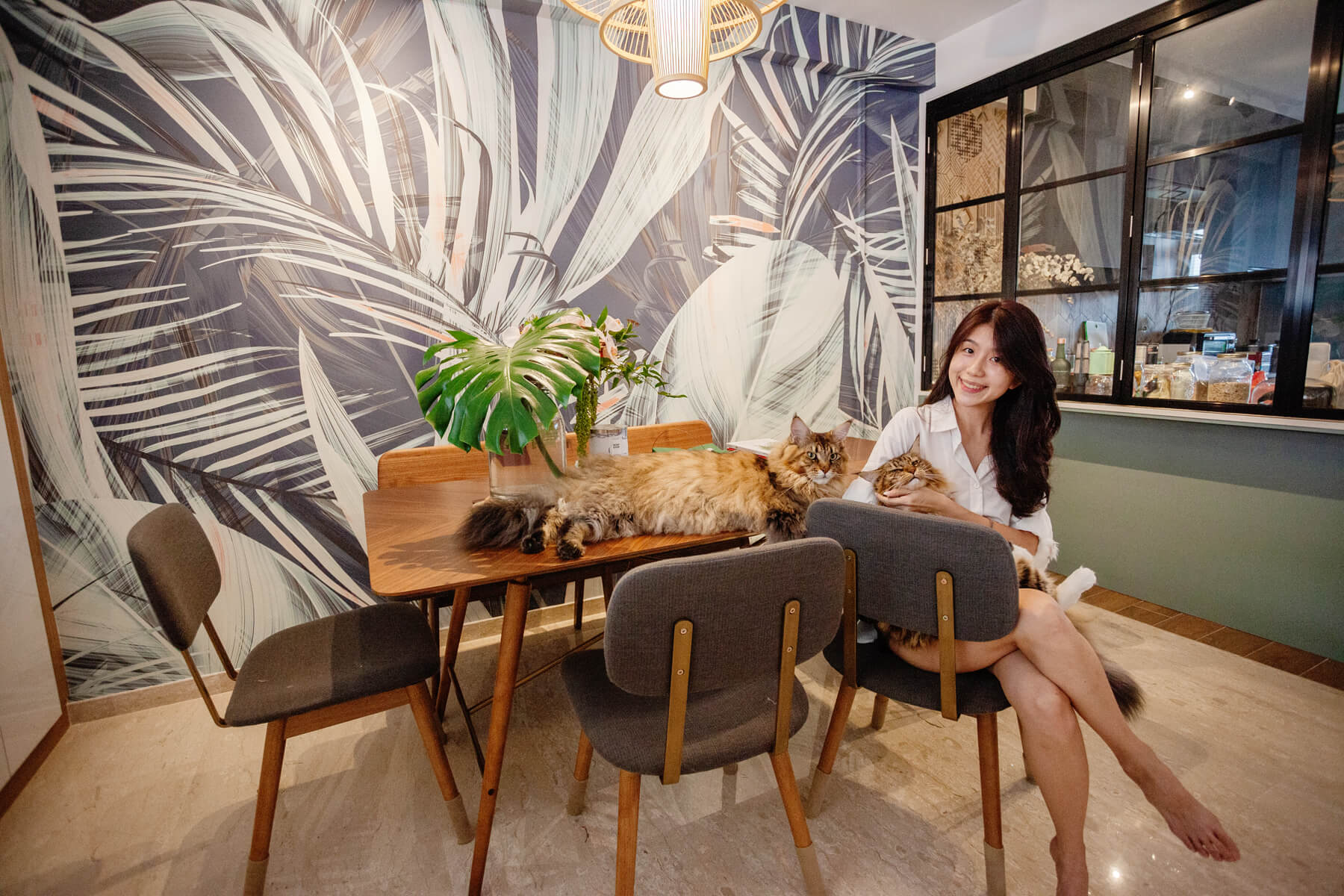 Wallhub: We love how cosy every corner of your home is! What is your inspiration?
Zoe: Thank you! Both my husband and I really enjoy the nature and I especially love being surrounded by greenery (as you can tell by the wallpaper we chose and the number of plants in our home). At the same time, we wanted our home to exude the warmth of a family and be an extension of who we are as individuals. So we drew inspiration from Pinterest and the places we have been to or would like to go for example, the glass panels that resembles the French windows and the pendant lamp that transports us to a quaint Japanese nook.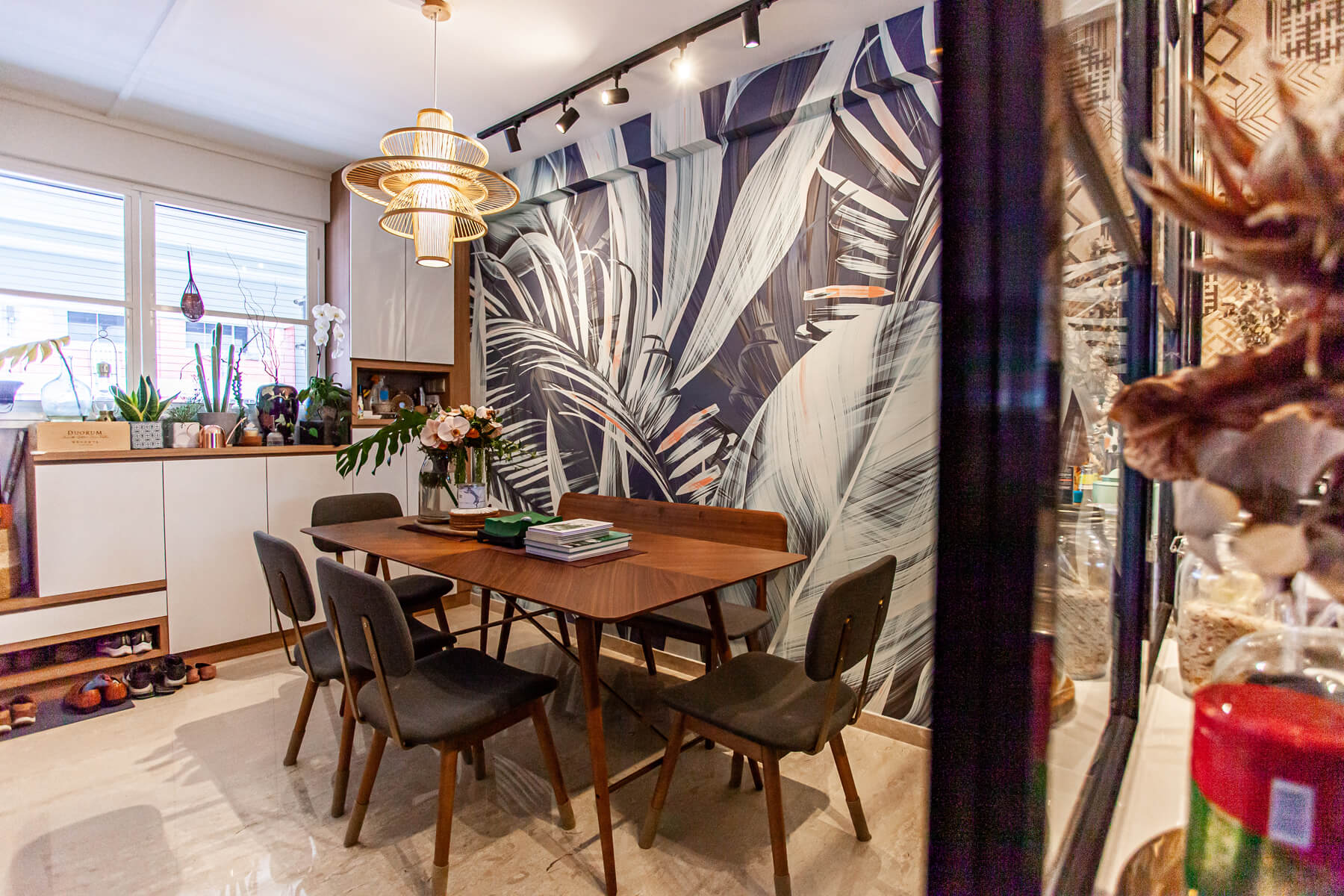 Wallhub: What were your key considerations when designing your space?
Zoe: To have loads of storage space, haha! We wanted to make sure that the carpentry was custom-built to our needs and at the same time not appear too bulky and dull. We also made sure we bought furniture that are comfortable and durable.
Aesthetics were also important because that impacts the look and feel of the home. So we spent a lot of time thinking about how to mix the laminate of the carpentry with the different textures of the home. We considered how the organic textures (e.g. Wooden grain) and synthetic textures (e.g. Brass finishing or fabric) of one furniture look and flow with another. We don't want to be overly consistent but at the same time needed to make sure there was synergy in the aesthetics. We don't make a purchase without extensive "eye-power" or what you call visualising work!
A lot of people think that aesthetics and designing is "adding" and "putting together" concepts and ideas. Sometimes, it is also about dropping and cutting the fat. We dropped some design ideas and kept some of the walls "clean" to avoid saturating the space.
So, it was something of a balancing act between practicality, comfort, and aesthetics!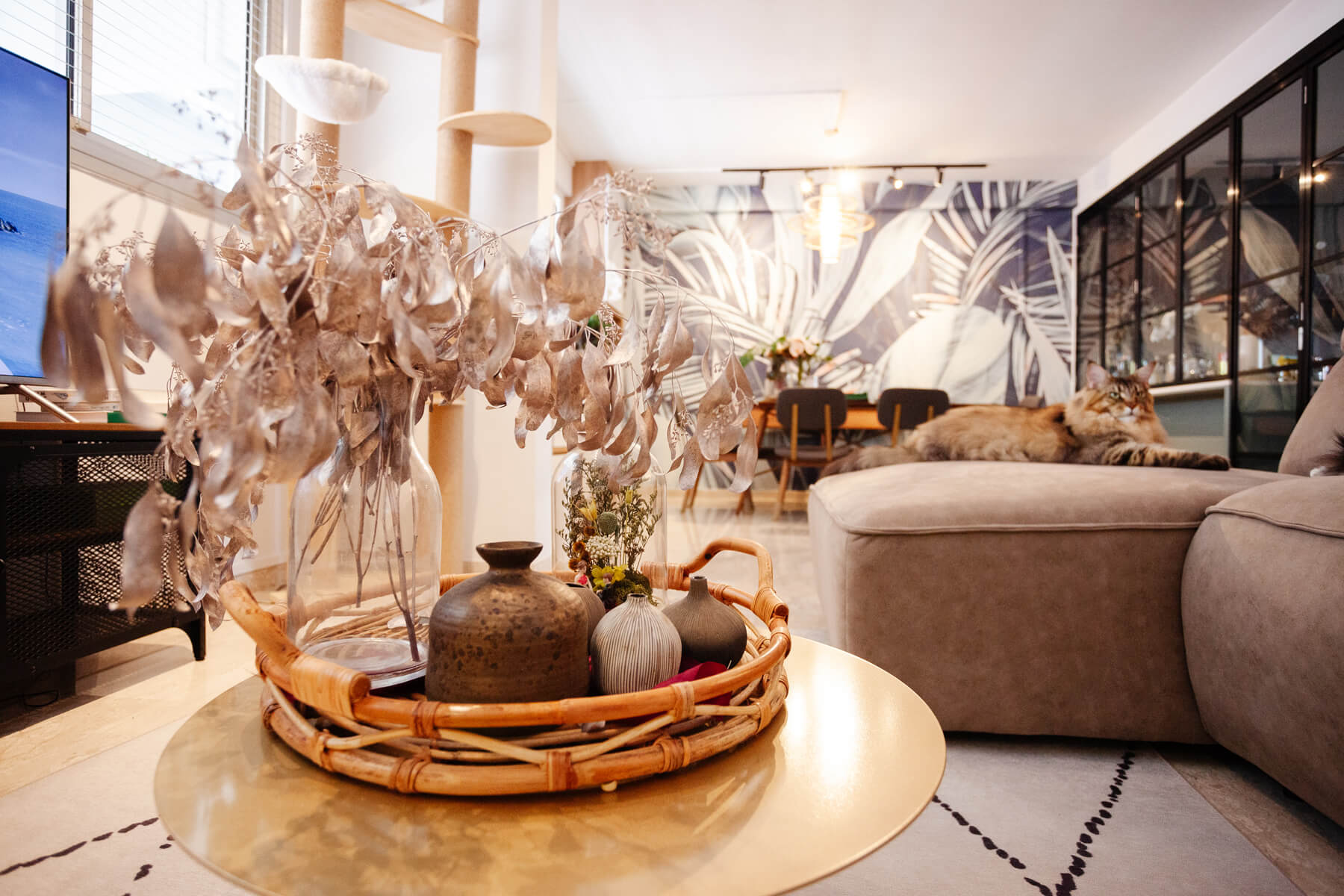 Wallhub: If you have got to pick one, which is your favourite part of the house, and why?
Zoe: The living and dining area!
It is where we can wind down with a book and a cup of tea (the little lions join us too) and at the same time host parties or have life-giving conversations with our friends and family. Due to Covid, we also got married in our living and dining area. So the space gives us a sense of calibrated simplicity and joy at the same time. We are so grateful for that.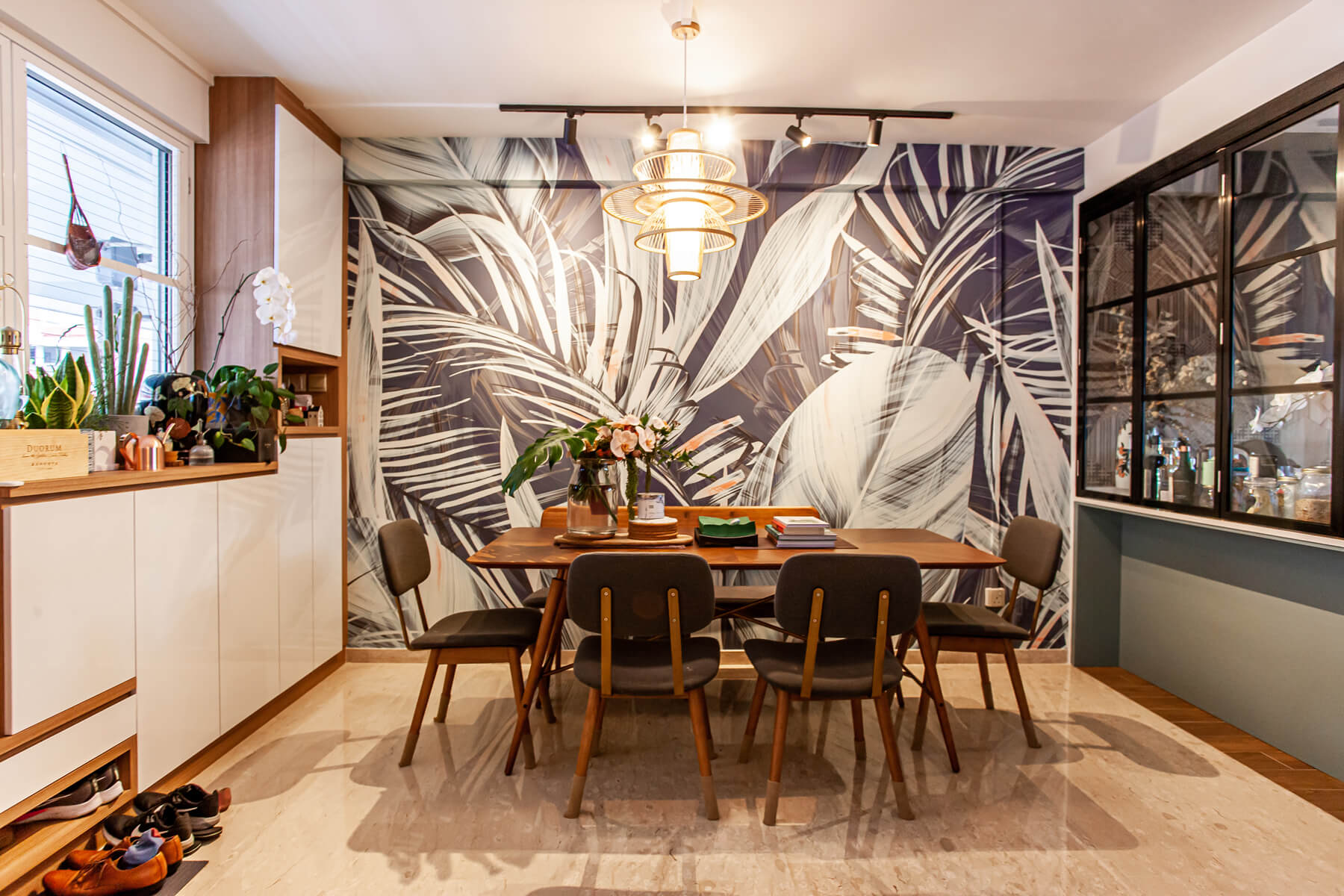 Wallhub: Your dining feature wallpaper looks great! How did you decide on the design?
Zoe: I think many were shocked when I told them that I had chosen my wallpaper even before I bought this place!
I chanced upon the design on Wallhub's Instagram account and I fell in love with the look of large foliage and bold prints. The botanical design of the wallpaper and the bold colours were a juxtaposition of nature and modern living. That's how I knew I wanted this to be a part of my home.
My husband then told me that although he liked having a "botanical" look he did not want live plants in the home, so I thought the wallpaper was the only way I could satisfy my dream of a jungle home. The wallpaper came, yes but eventually so did all the plants you see here in my living room. Oops.
The result? I think it looks pretty good! So, my husband is not complaining and no regrets at all.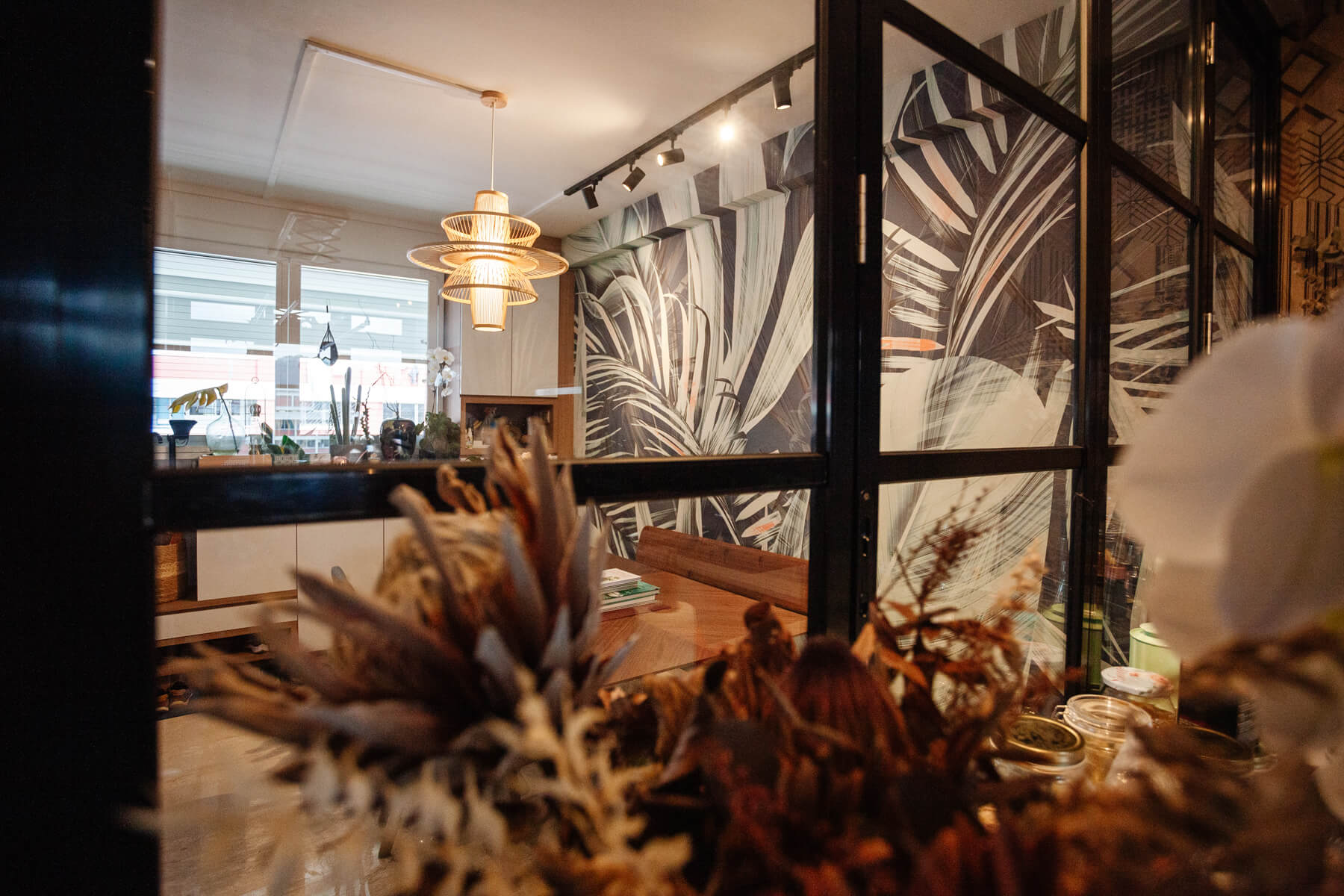 Wallhub: Tell us more about your experience with Wallhub!
Zoe: I had an easy experience coordinating with Wallhub. We met our sales assistant from Wallhub at the Home By Hitcheed event 6 months before we started renovation. Once we have confirmed the wallpaper, we linked up both Wallhub with our Interior Designer and all I needed to do was to choose my desired texture of the wallpaper and decide on the space where I wanted the wallpaper to be. My ID and Wallhub coordinated to ensure the measurements were accurate and viola, it all came together.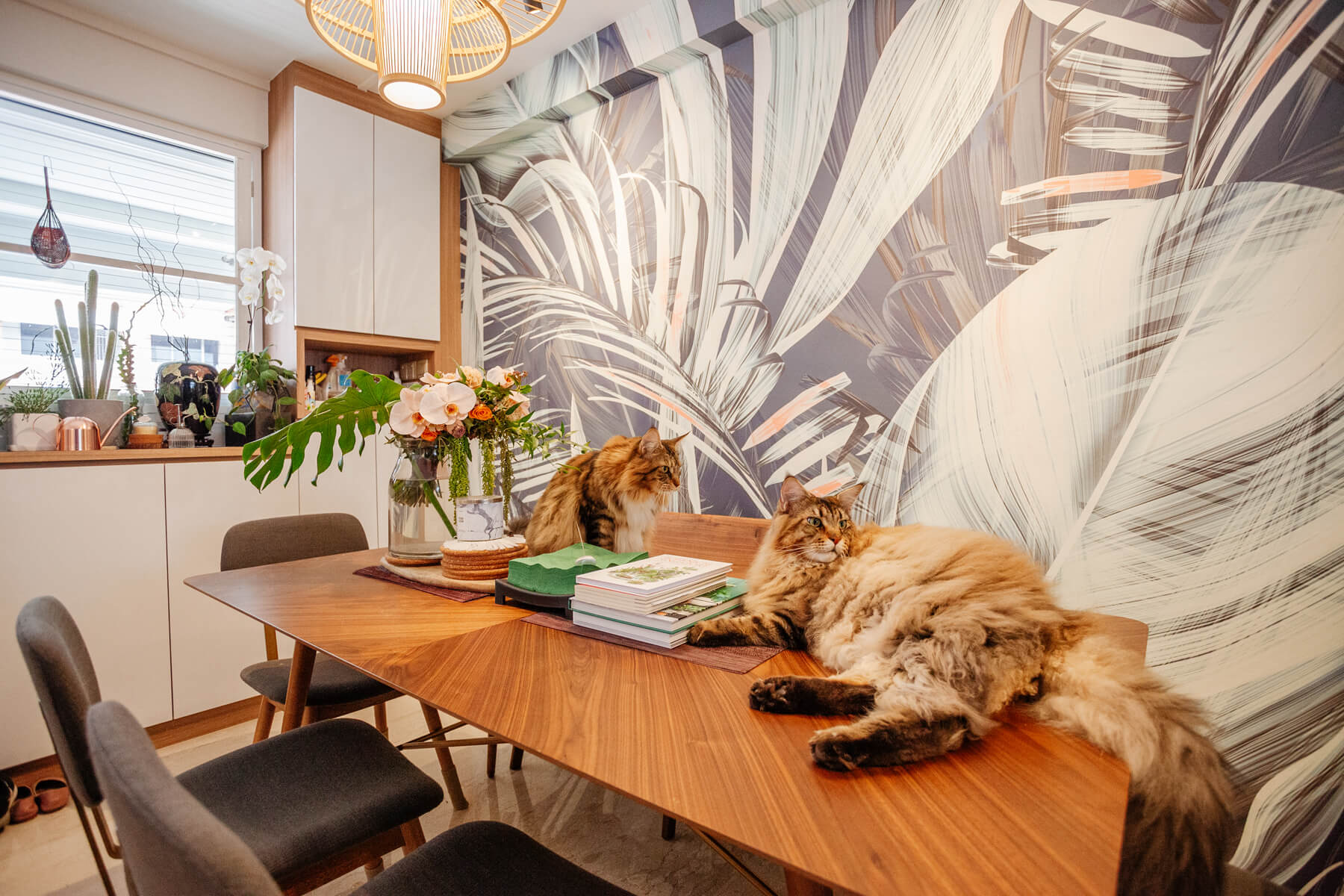 Wallhub: With 2 years in, how is the wallpaper holding up for you especially when your adorable furkids (Mochi & Matcha) are free to be where their hearts lead them?
Zoe: The wallpaper is holding up well! There were no issues on maintenance thus far and the texture does not catch dust too. Matcha and Mochi are both long fur cats and the wallpaper did not catch on their fur. My cats do not have severe scratching habits but even if they did, the wallpaper seem to have a very durable finish that will be able to withstand it.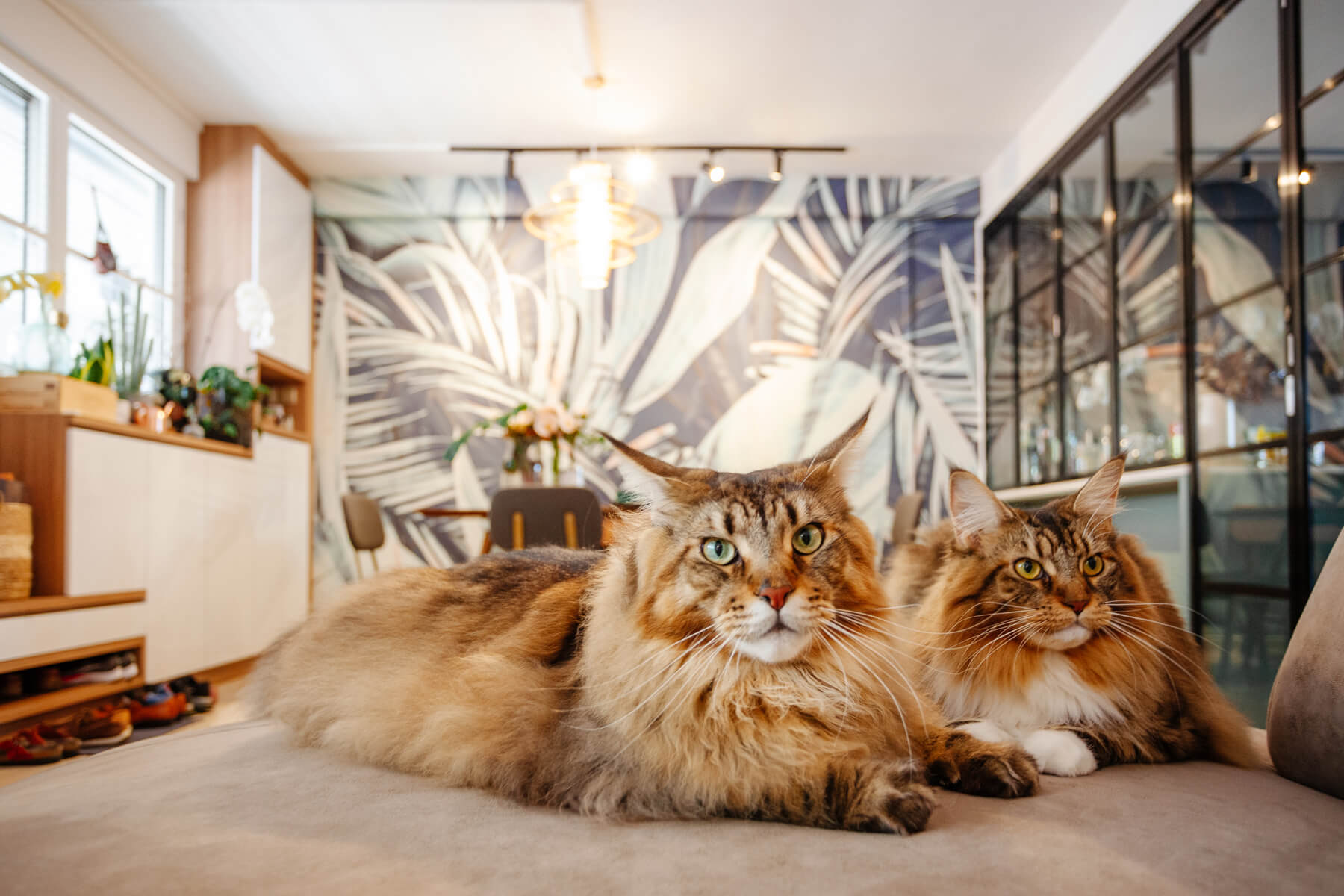 Wallhub: Thank you so much for sharing, Zoe! Would you have any tips for other couples looking for inspiration to style their homes?
Zoe: Enjoy the process of your home styling and designing journey! Afterall, a home is not about how it looks but really about the people who lives in it.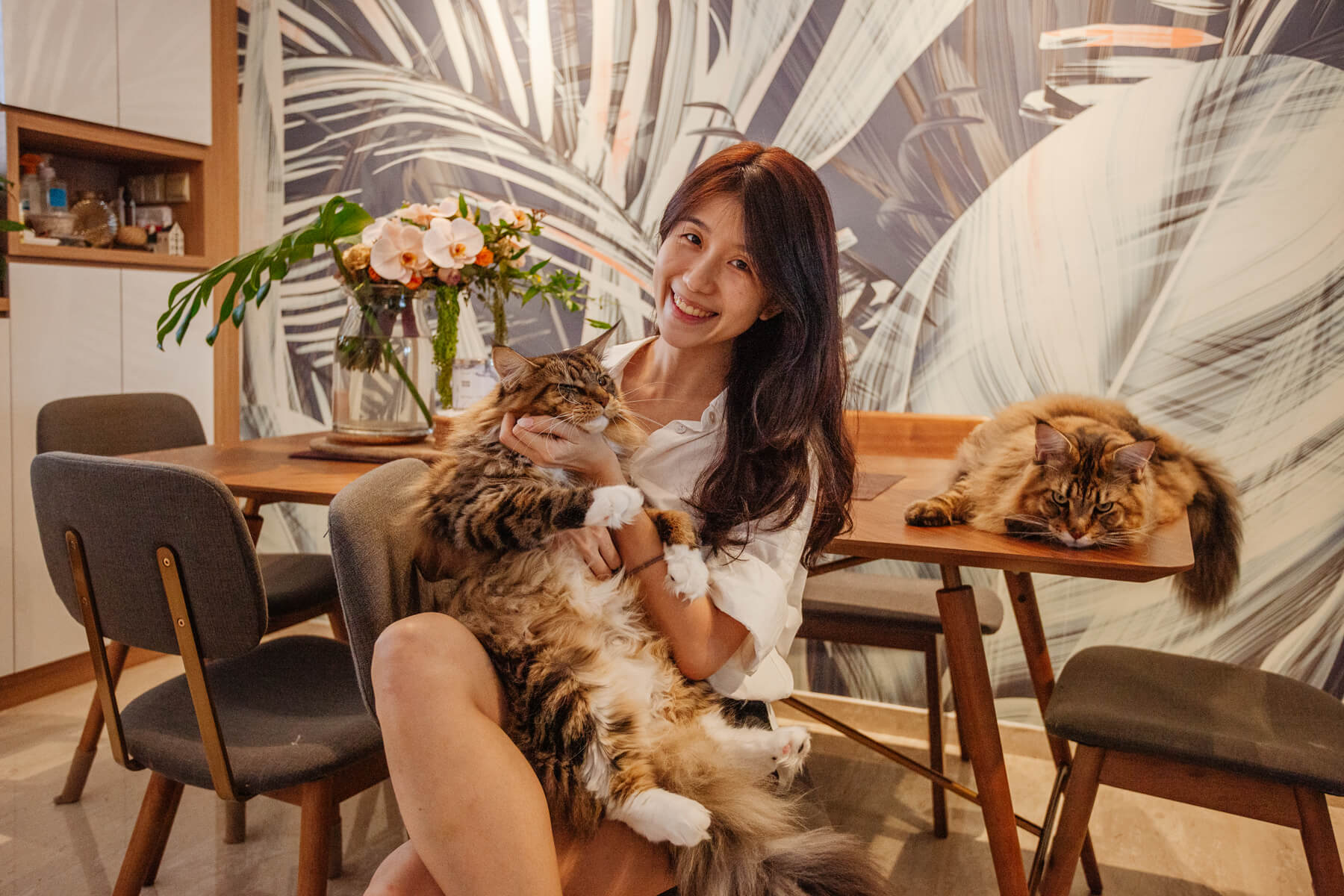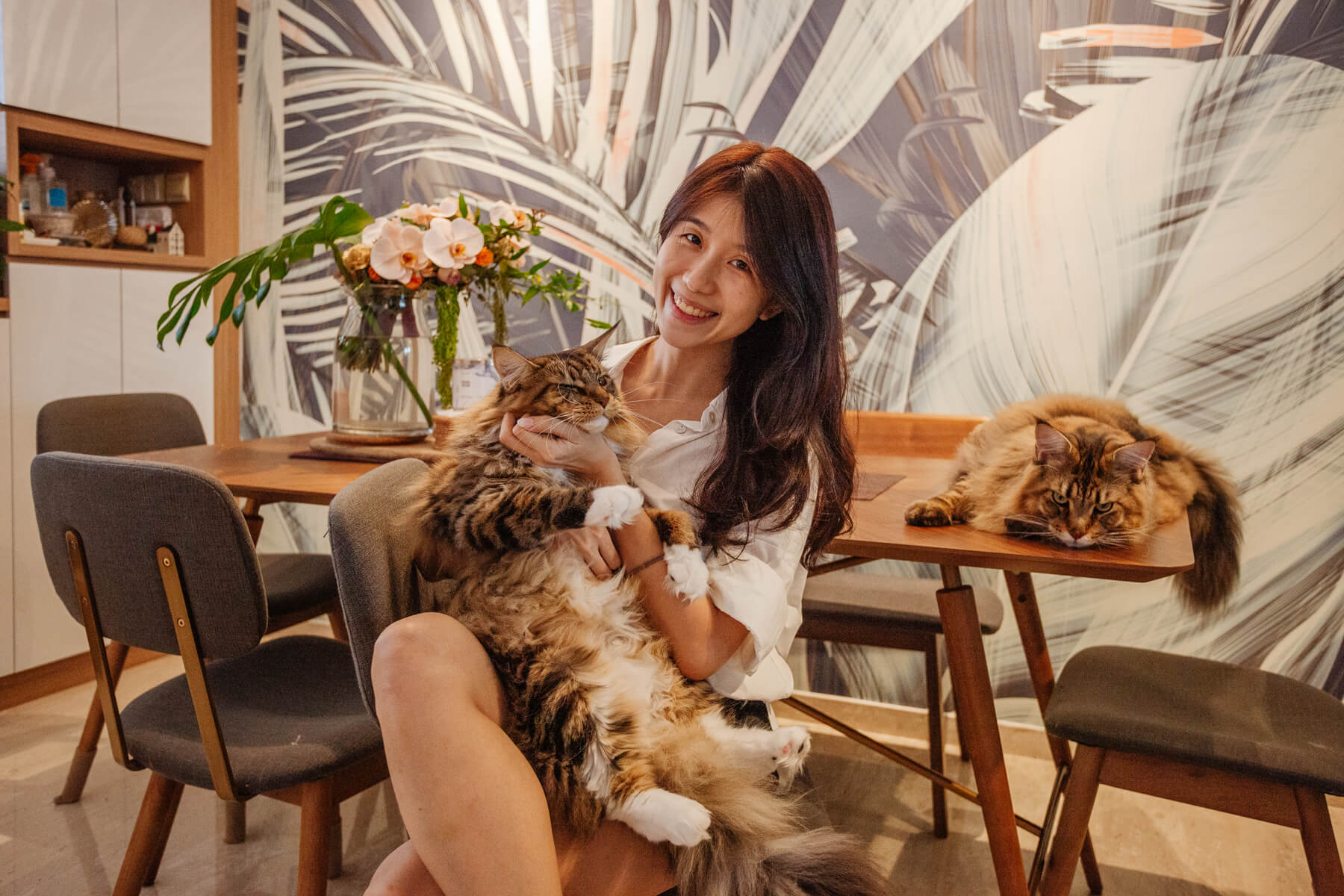 For more peeks into the lovely spaces of homeowners of #homewithwallhub, head on over here!