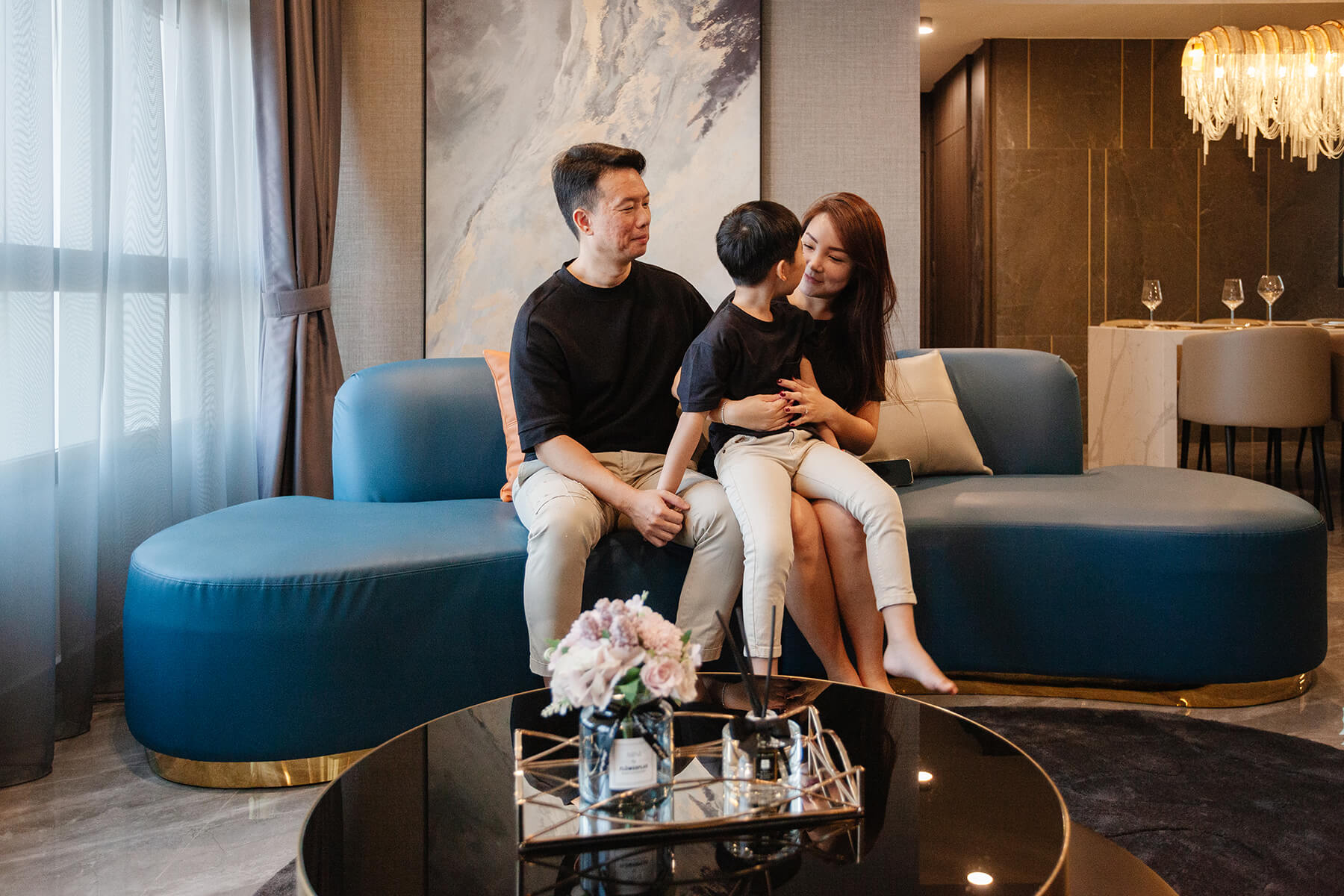 Statement pieces, dark woods & beautiful glimmers of gold are not the only features that make this modern luxury home shine. It is the care and thought of every detail that echoes the personality of Justin & Meilin, while their vision of a home to call their own comes to life.
Read on for a peek into their home!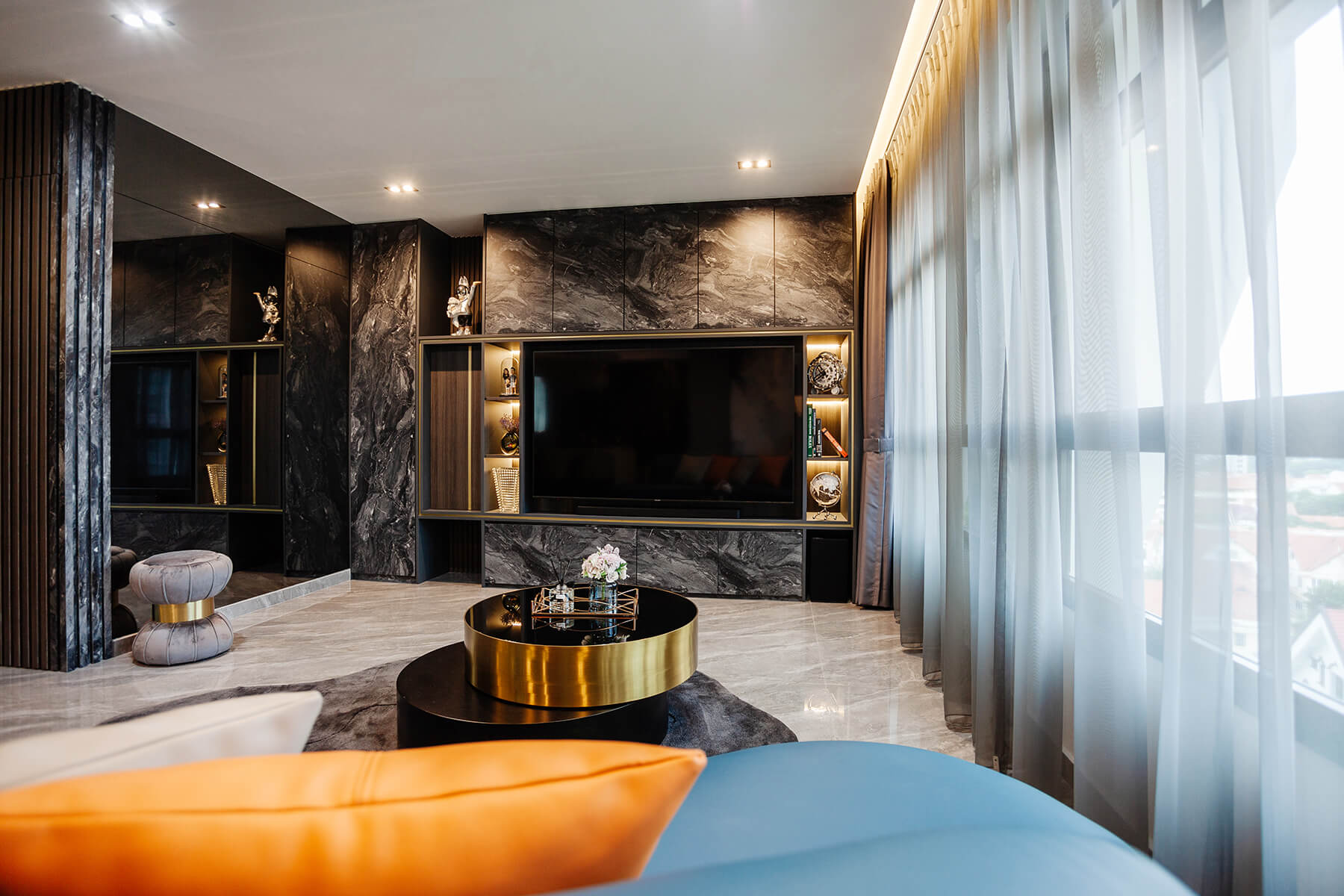 Wallhub: Hi Justin & Meilin, Thank you for having us at your home, it is gorgeous! Would you share with us your inspiration for your home?
Justin: We have always loved the idea of having a home that is like a hotel. One that feels inviting, cosy, timeless and luxurious. We have been to a friend's home that introduced dark colours in their spaces, and we felt that the atmosphere resonated with how we would like our home to feel.
Meilin: From thereon, we searched the internet for inspiration, as well as started looking for an interior designer to help us make it happen. We are so glad to have found one who understood what we are looking for and shared with us many wonderful ideas and tips.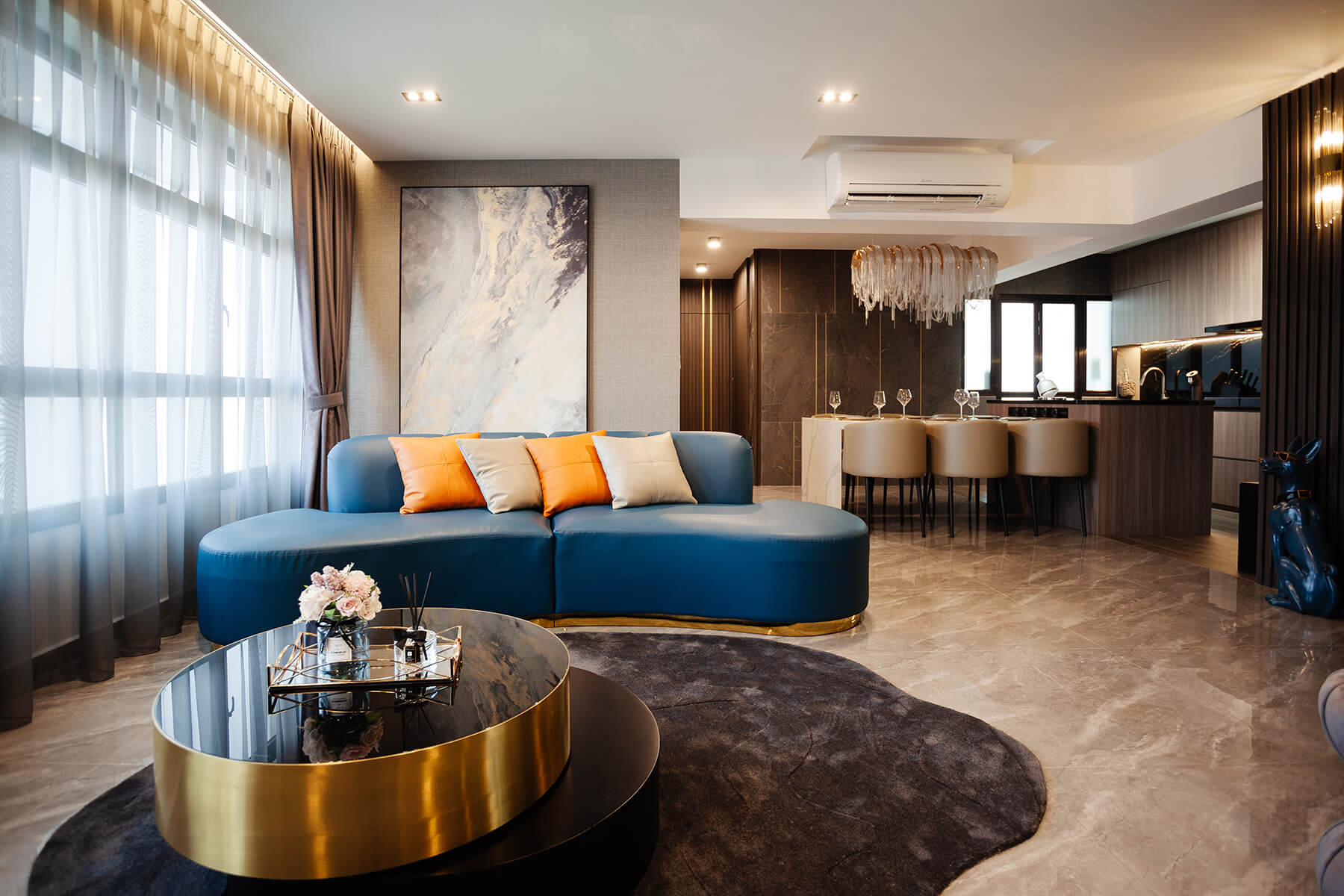 Wallhub: Love the colour palette you have, and that pop of blue from your curved sofa is refreshing!
Meilin: Thank you! Both Justin and I did not fancy the conventional L-shape sofa. We think that it would make the living room feel very rigid and boxy. That leads us to pick a curved one instead. Against the backdrop of a grey-taupe vinyl wallpaper from Wallhub, not only does the sofa add a fun element to the room, we feel this shade of blue invigorates and compliments it.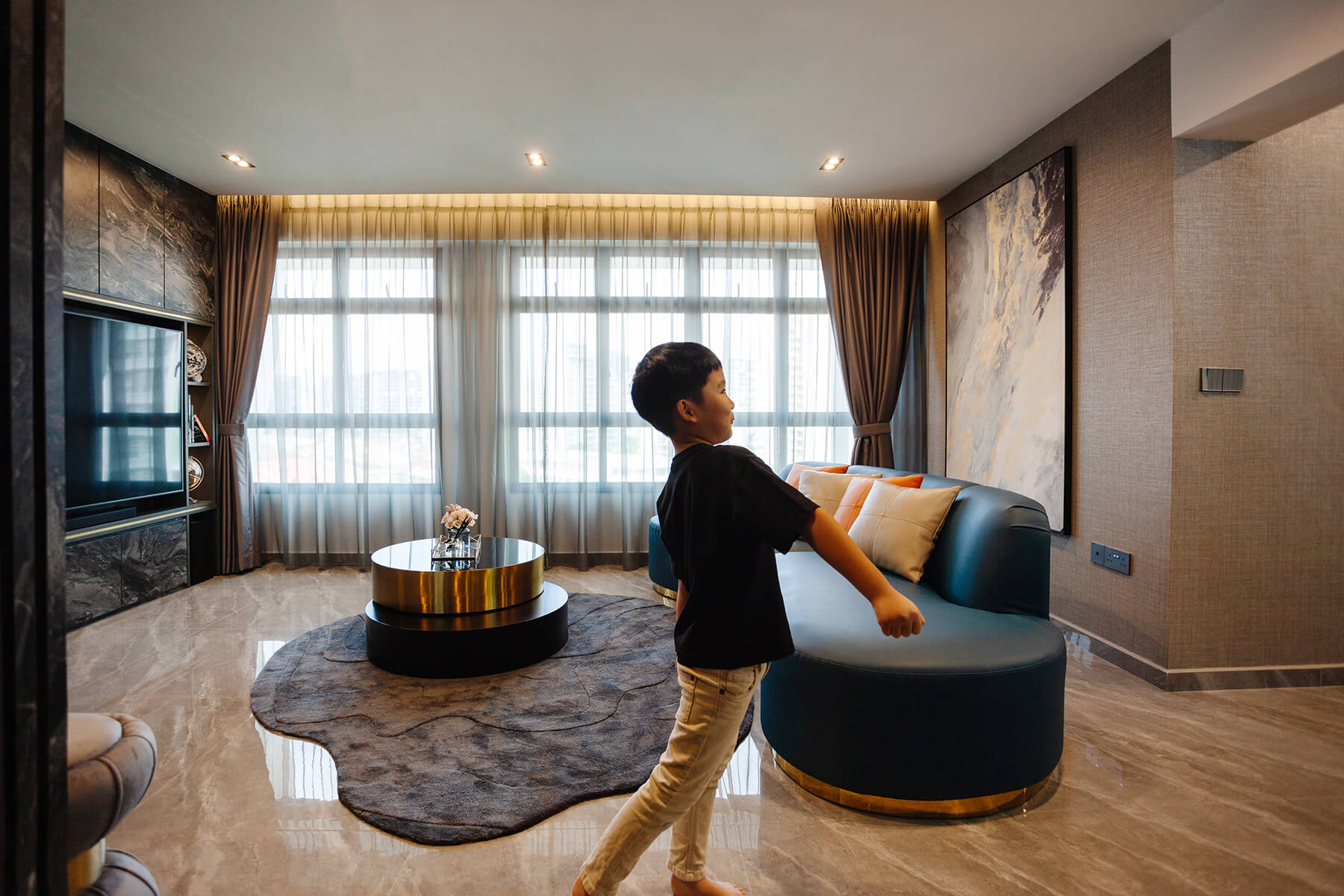 Wallhub: Indeed, it does! How did you come about selecting your wallpapers?
Justin: We feel that the modern luxury interior style anchors on the idea that white painted walls should be avoided (or kept to a minimum) and wallpaper would elevate the look, just like in the hotels. With the help of our ID's renderings, we were able to share them with Wallhub to find the designs to match our interiors. With the help of Wallhub's sales consultant, we were able to do so effortlessly.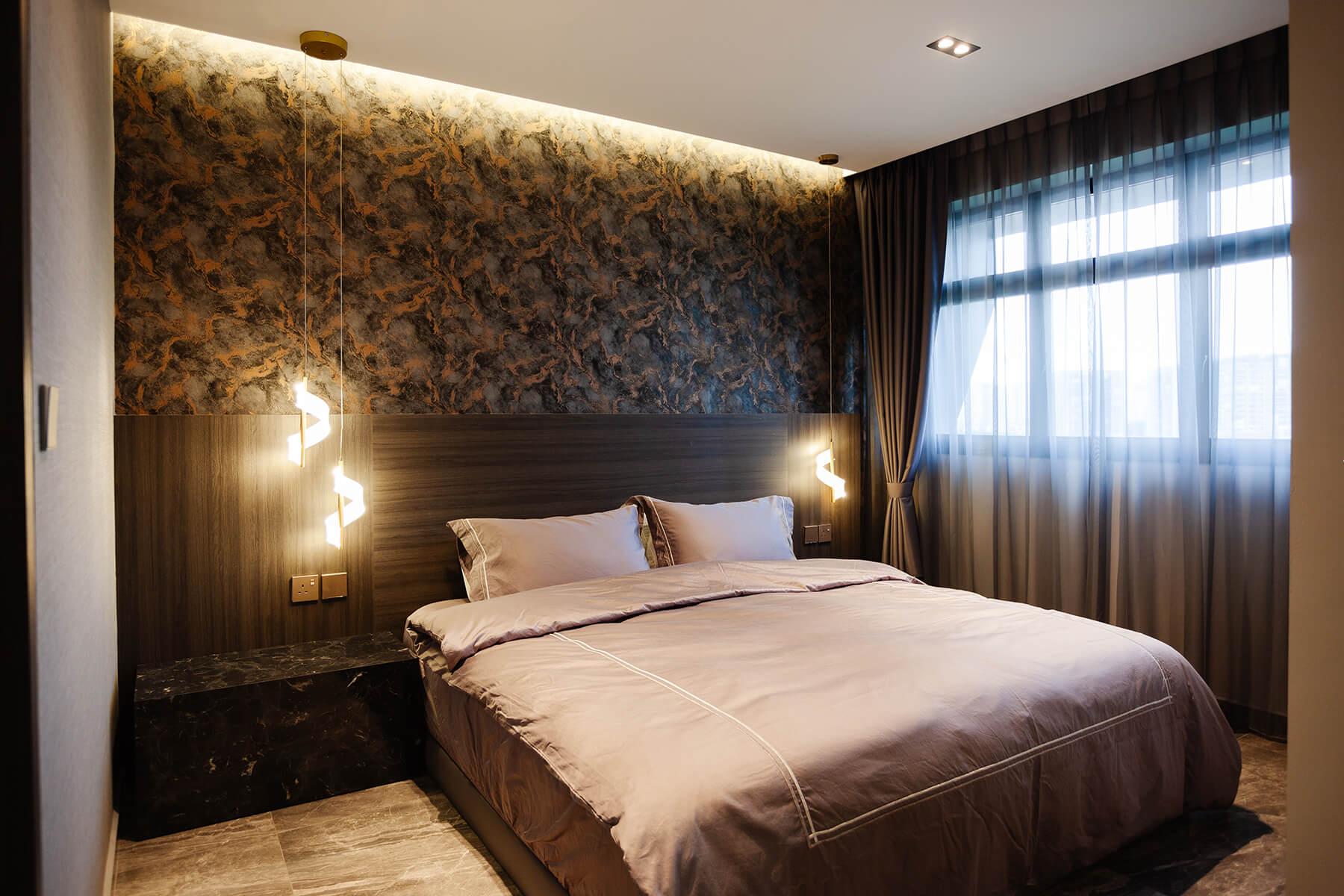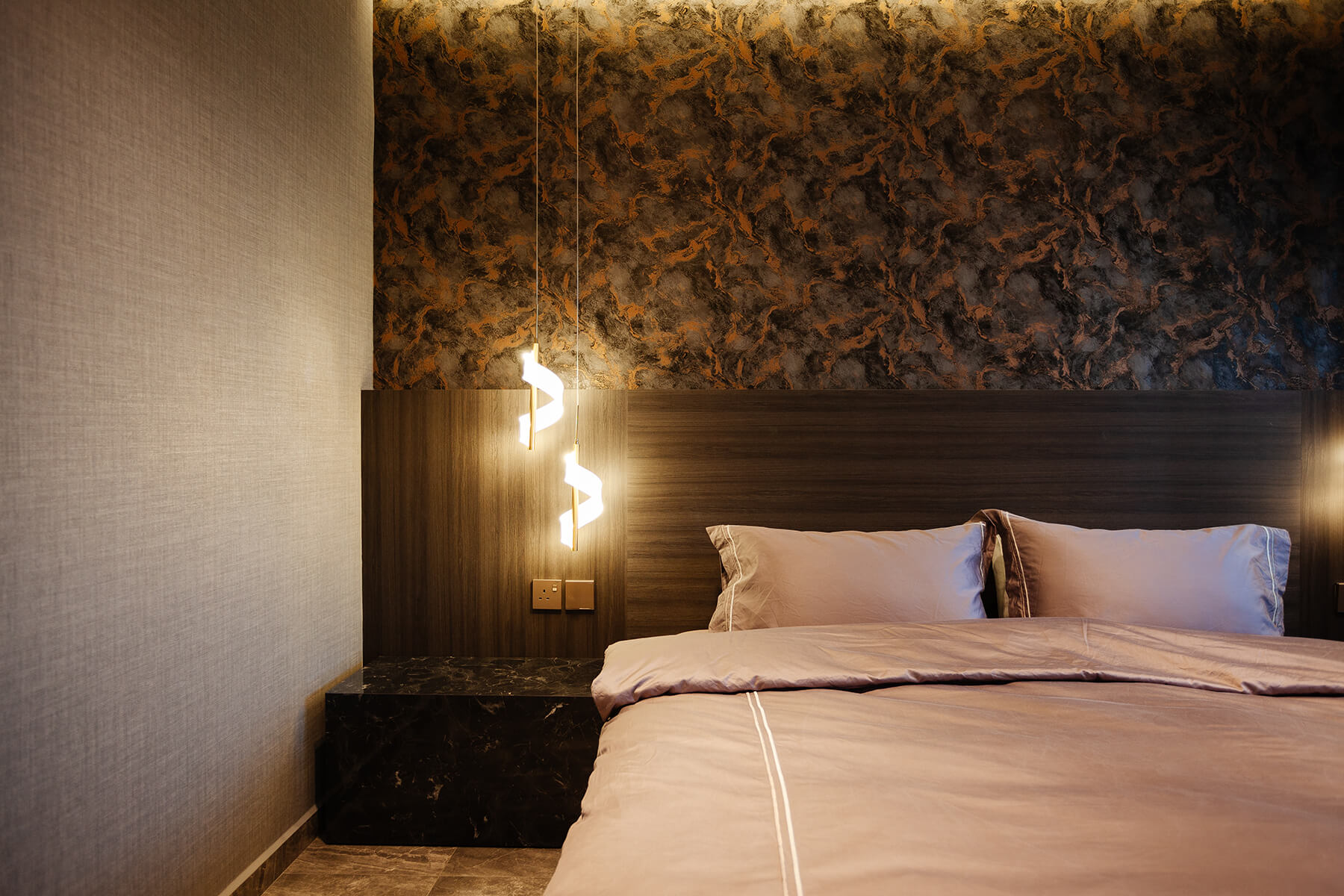 Wallhub: Your wallcoverings look great, would you tell us more about your experience with Wallhub?
Justin: We first went to Wallhub's showroom with our renderings and floor plan, with no clue on what we want exactly. We shared our ideas and concerns – like wanting a moody interior without it being too dark – and learnt that not all wallpapers are made the same.
With Wallhub's wide variety of selection and professional advice, we decided to go with the vinyl wallpaper on our sofa wall and corridor, and their Turkish wallpaper as our bed-head feature wall. The whole process was insightful and enjoyable. The installers are very professional and it makes the process very much effortless.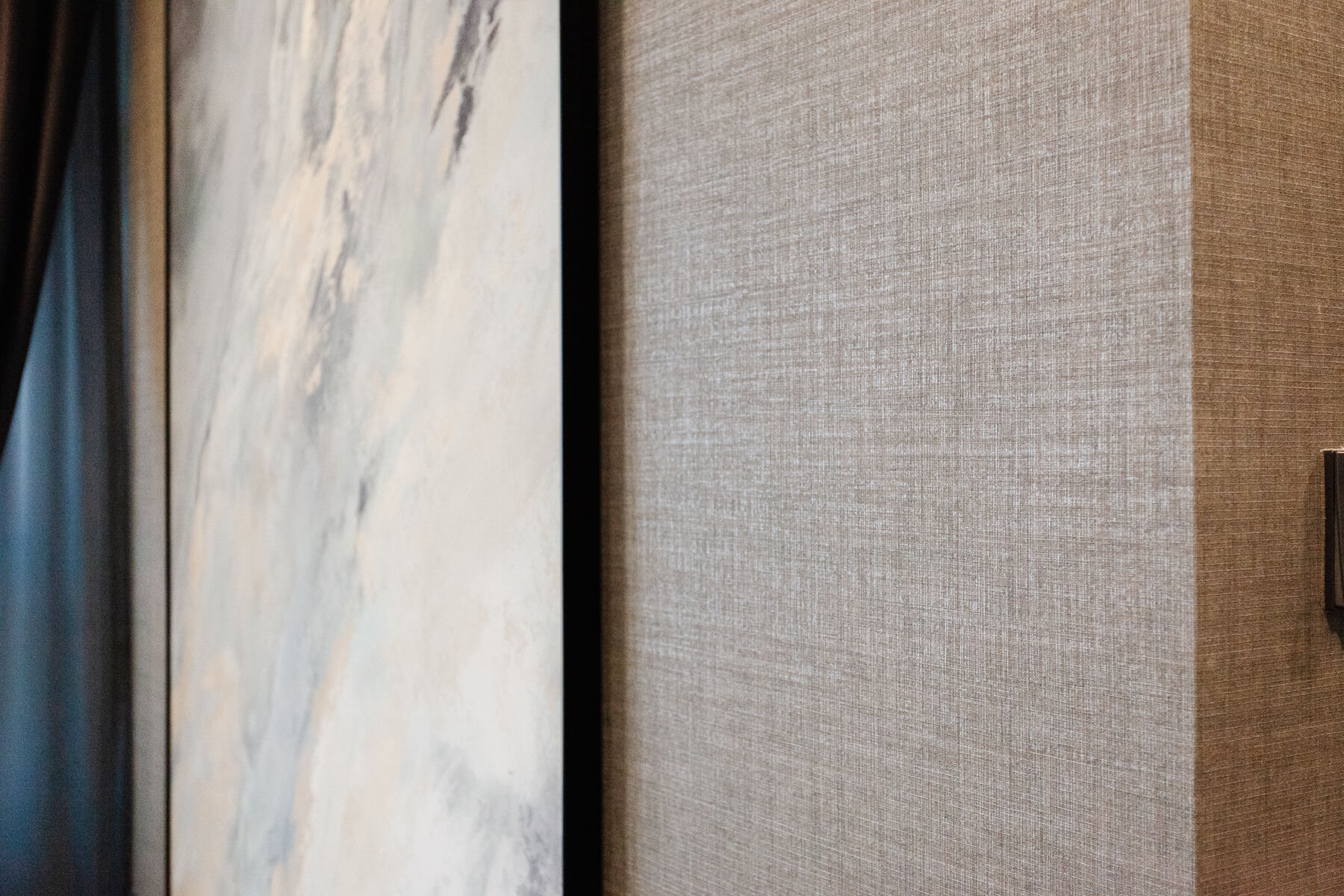 Meilin: We have a cheeky and playful boy, and Wallhub recommended the vinyl wallpaper collection for its resilience. It is one of the best choices we have made. Our little one couldn't stop touching the wallpaper and it is holding up really well. It looked great and we even placed another order for our bedroom's general walls.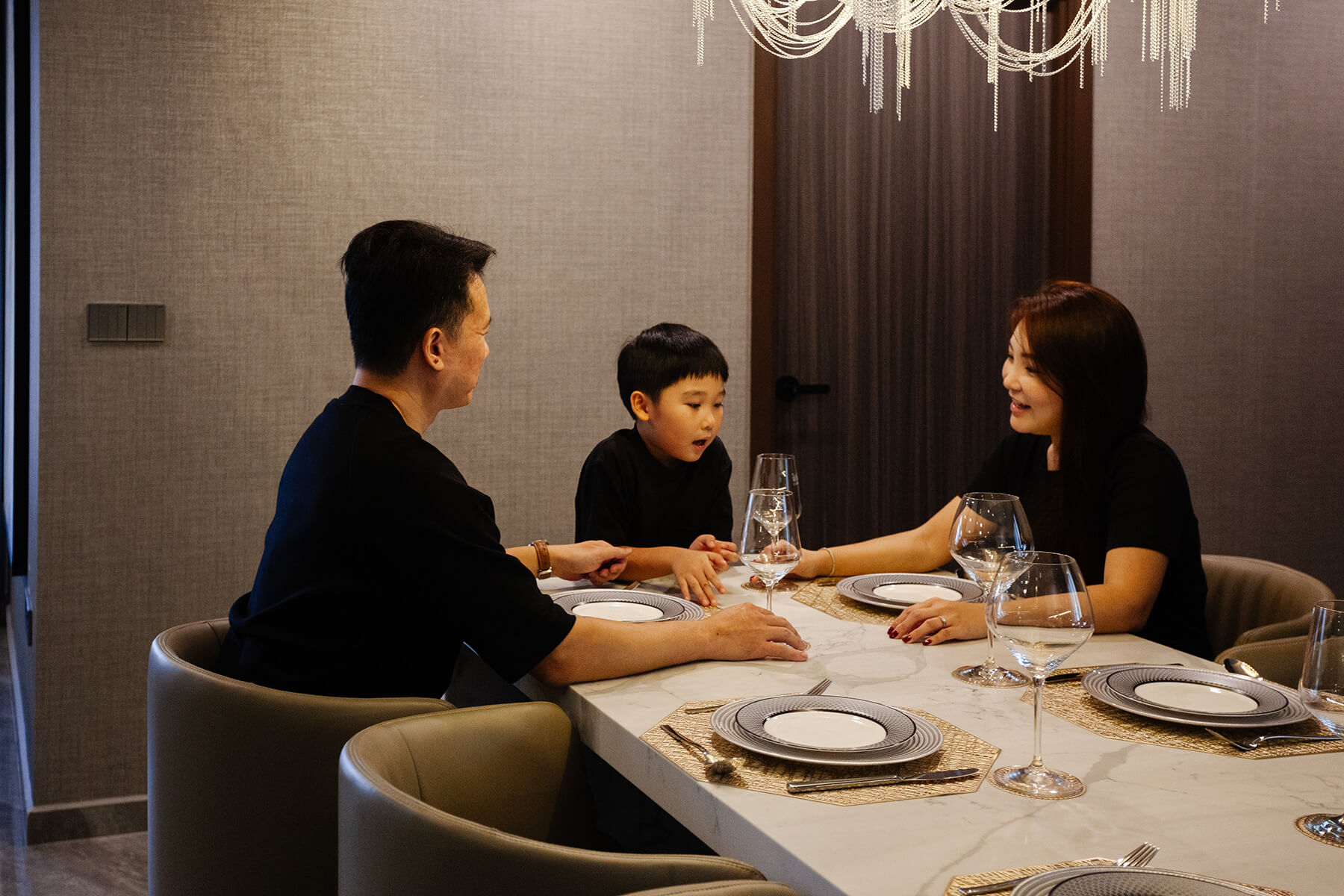 Wallhub: We are glad to know that! With every room of yours being so stunning, if you really have got to pick, which is your favourite, and why?
Meilin: That would have to be our dining area. It is the go-to spot where we have meals together every day as a family, where my son and I spend time together going through his homework and drawings, and where Justin enjoys a tipple while we chat.
Justin: We also like how the dining table is integrated with the kitchen island, maximising the space we have. We don't do much heavy cooking, so an open kitchen works great for us.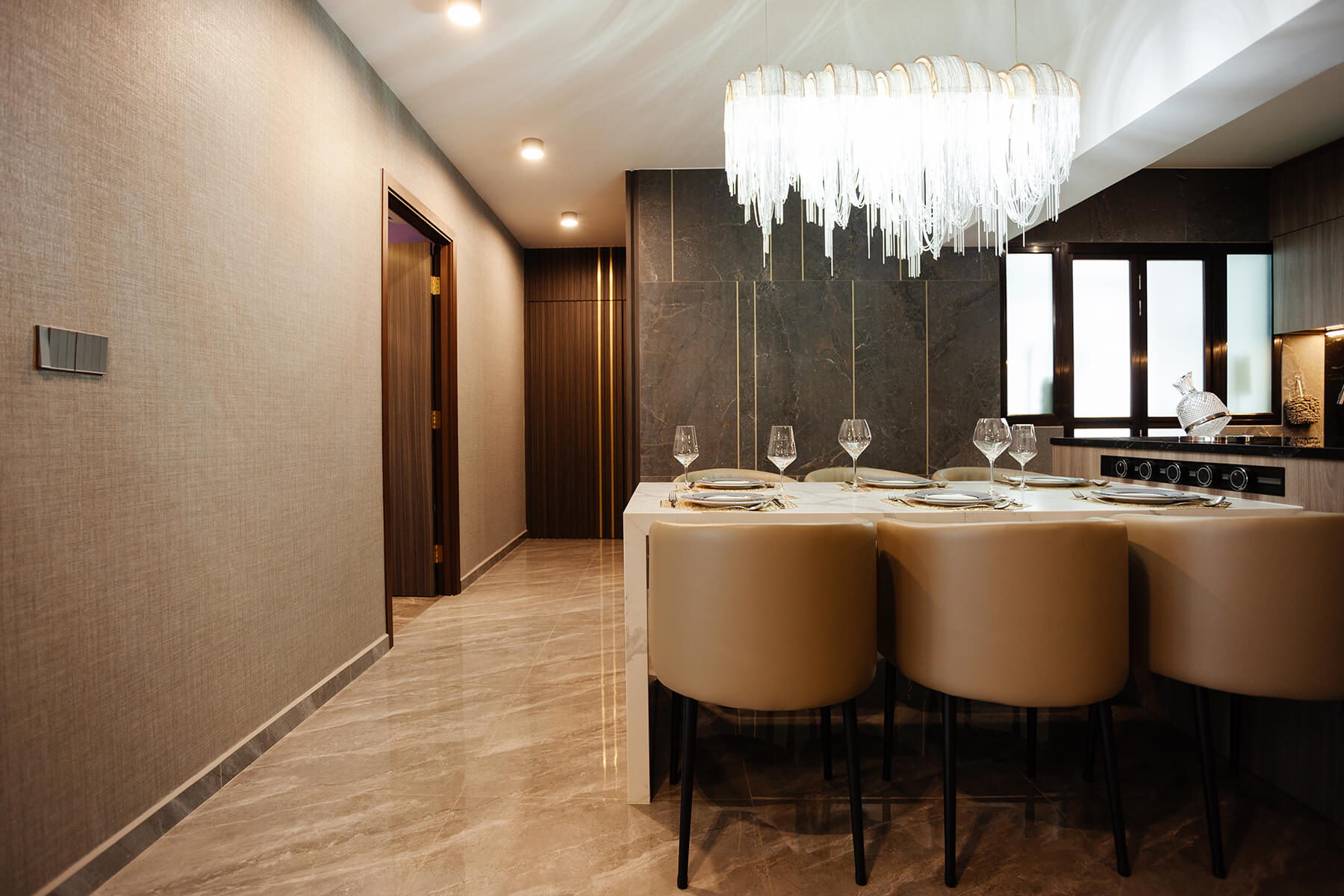 Wallhub: Your dining area is one of our favourites as well. Thank you for taking the time to share your home with us, Justin & Meilin. Before we go, would you have any tips for homeowners who would like to create a home like yours?
Meilin: Justin would say no white walls (laughs), and I, to find pieces that speak uniquely to you. Take the time to do your research. There are a lot of options and beautiful pieces out there, so keep looking and start creating your interior inspiration boards.
For more peeks into the lovely spaces of #homewithwallhub, head on over here!