KASTONE® Air is one of the lightest artificial brick veneers today. Its thin nature, flexibility & durability provides modern users a high-tech & green alternative to conventional stone veneer.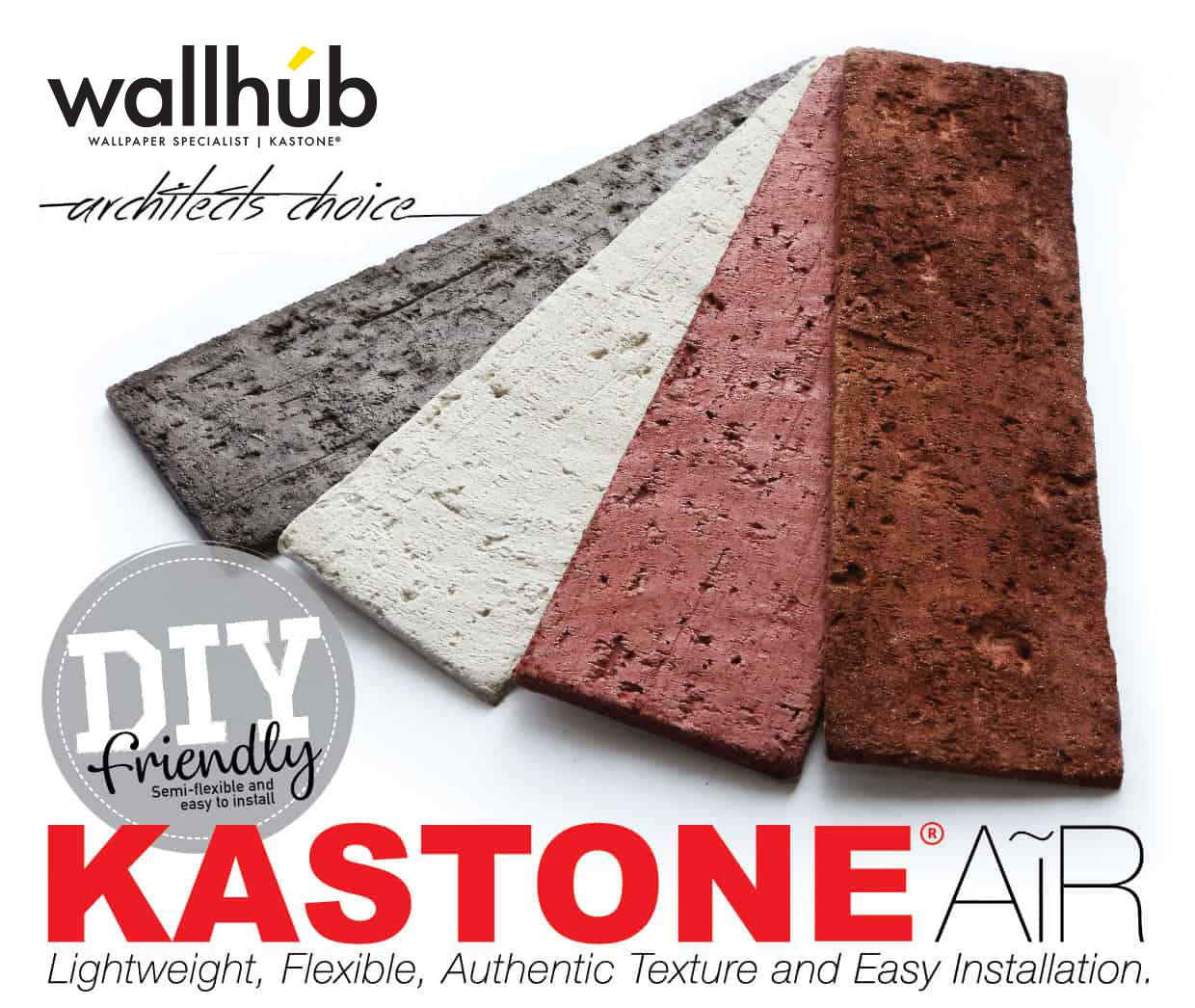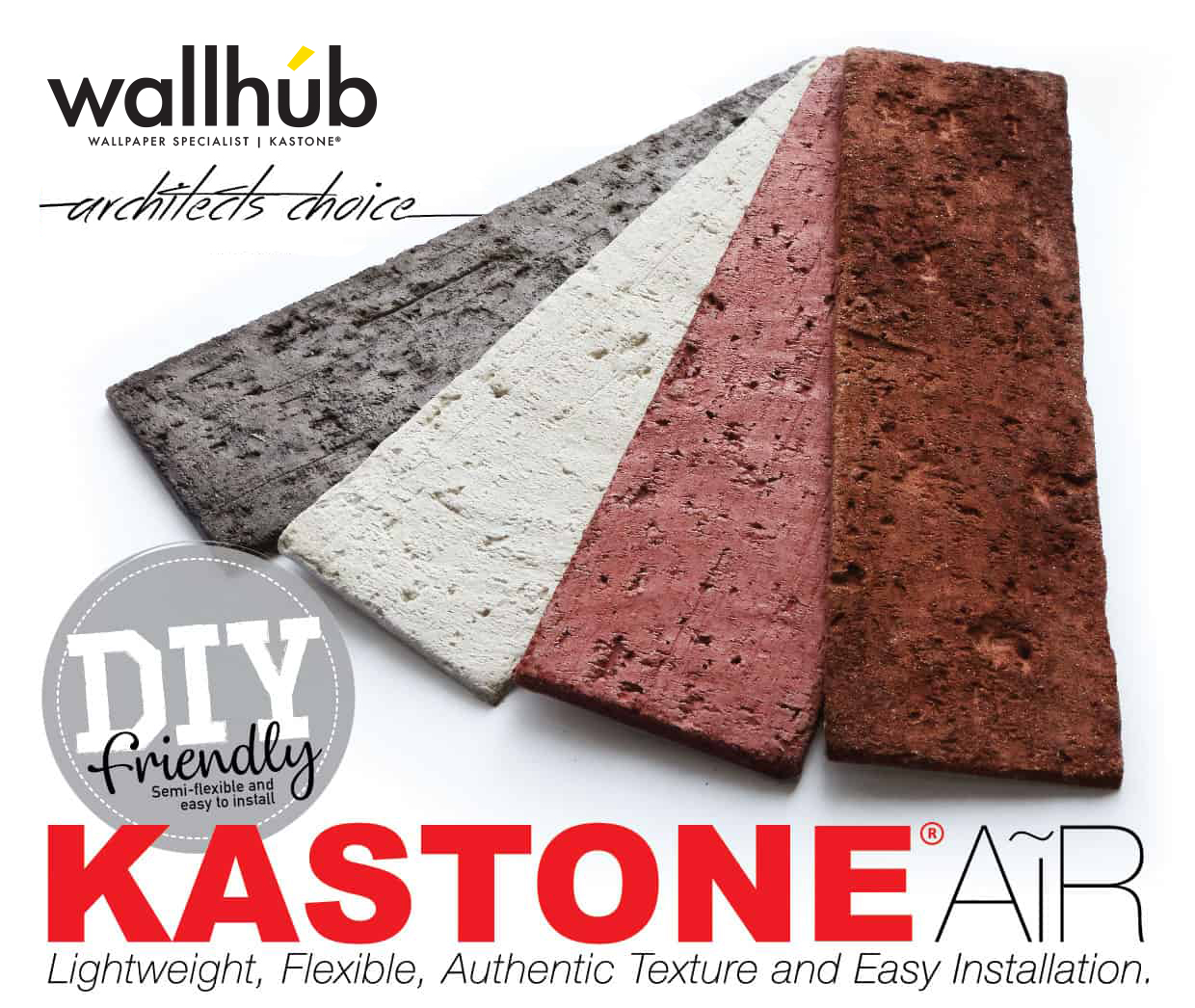 PACKAGING DATA
Dimensions (CM)
Flat Brick: W6.5 x L22
Coverage per Box*
Flat Brick: 10.5 ~ 10.7 sqft
*Coverage is inclusive of standard grouting application
Weight per Box (KG)
Flat Brick: 5.5kg
---

About The Product
Here's Why You Should Get Our KASTONE® Air Brick Veneers
1) Flexibility
Its thin nature and flexibility allows it to be applied onto curved surfaces without cracking. This key feature sets it apart from conventional bricks as it can be applied on rounded surfaces while holding the appearance and aesthetic of typical bricks.
Uniquely rounded buildings can now also benefit from the beauty of artificial stone veneer.
What is the Singapore Green Label?
The Singapore Green Labelling Scheme (SGLS) is administered by Singapore Environmental Council (SEC) that certifies products from both industrial and consumer to be highly environmentally friendly.
Singapore Green Label is considered one of the most stringent certifications compared to most in the market. Our Singapore Green Label certified products assure less undesirable effects on the environment. We cater to a large number of residential consumers hence it is essential to ensure that we carry the appropriate standard and quality products for new and existing home owners.
3) Cost Effective
An alternative To Authentic Bricks
This product is not only environmentally friendly, but budget-friendly too!
If you want to achieve an industrial or urban suburban theme but your budget won't allow it, look this way! Our KASTONE® Air bricks meet the aesthetic needs of authentic bricks while being cost effective. It benefits modern users, giving them an alternative to achieve charming and exquisite interior without taking a bite out of their budget.
4) Easy Installation
The lightweight & thin nature of KASTONE® Air allows for a simpler installation process, rendering the product more convenient for users. That said, it comes with lesser downtime as you revamp your feature wall.
5) D.I.Y-able
The KASTONE® Air bricks are so lightweight and easy to use that you can even install them on your own! Apply your own KASTONE® Air bricks just the way you want them and make a mark on your newly renovated space. Apart from their flexibility, the bricks can even be cut using a scissors making them extremely hassle-free to D.I.Y. You can even mix and match the colours and create your own layout method – Example: Classic alignment or Herringbone Layout
(Grouting is Optional)
Guide to D.I.Y. with KASTONE® Air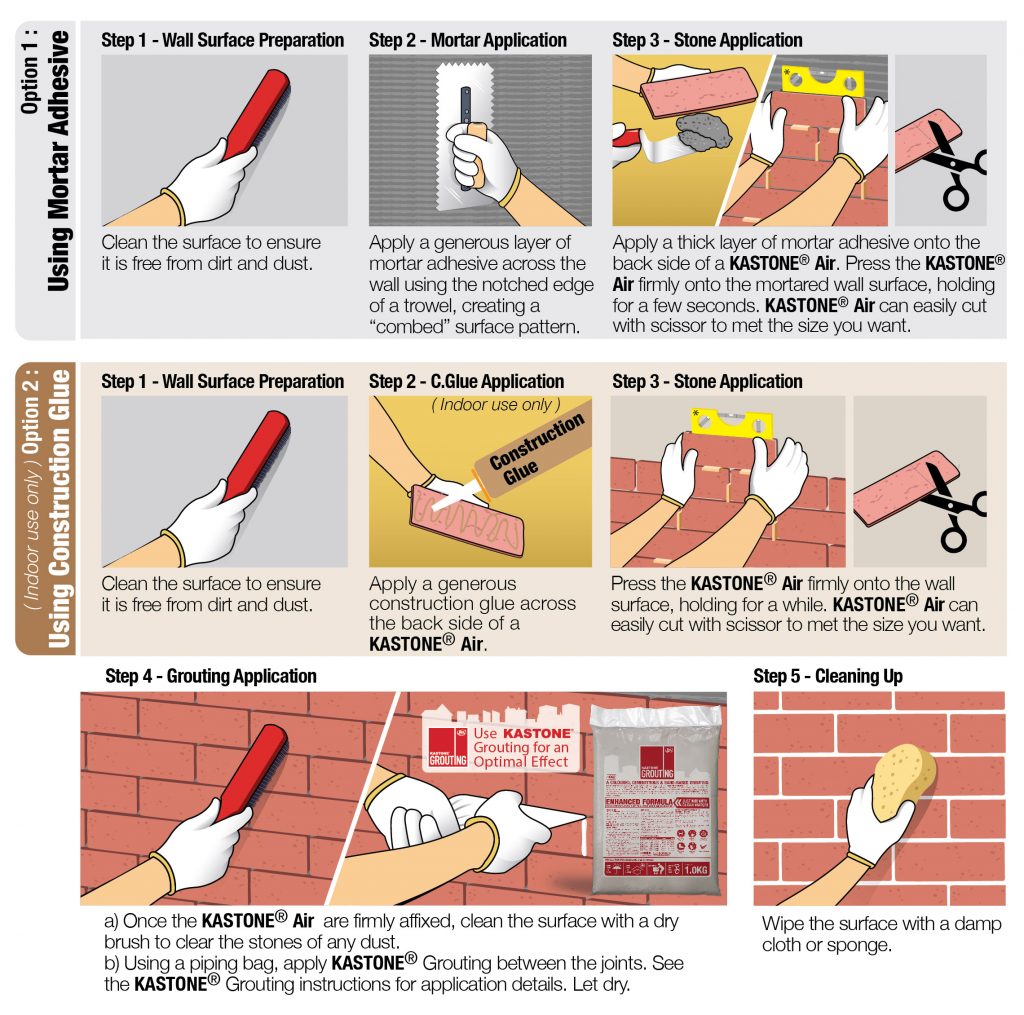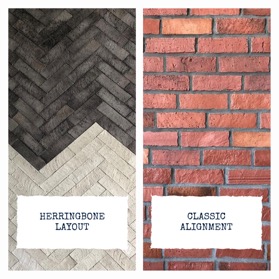 6) Variety of designs
The KASTONE® Air bricks come with a good selection of colour and grouting to match with. Not only is KASTONE® Air environmentally friendly, its variety of designs meets the aesthetic needs of any consumer.
---
Design Selections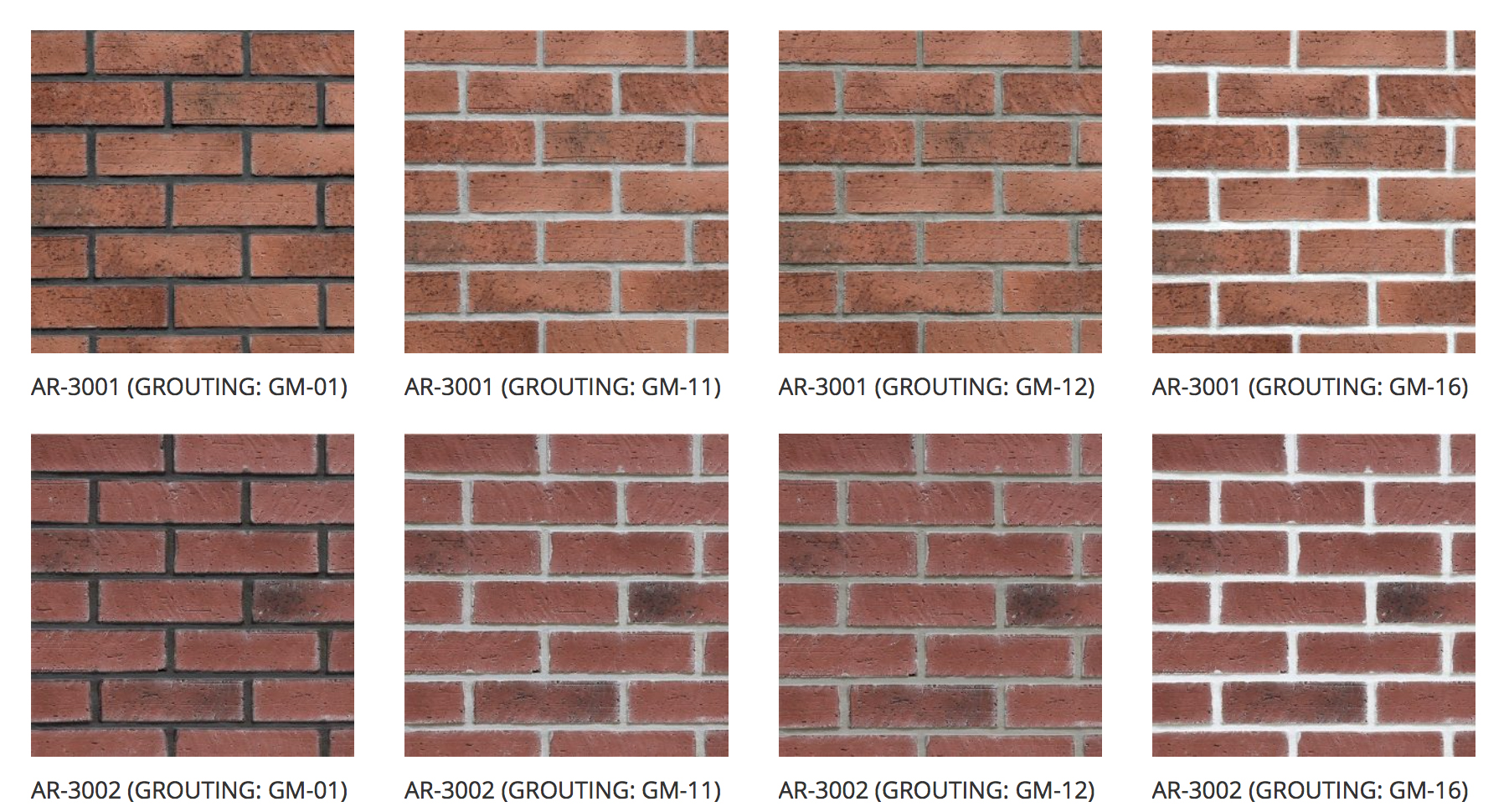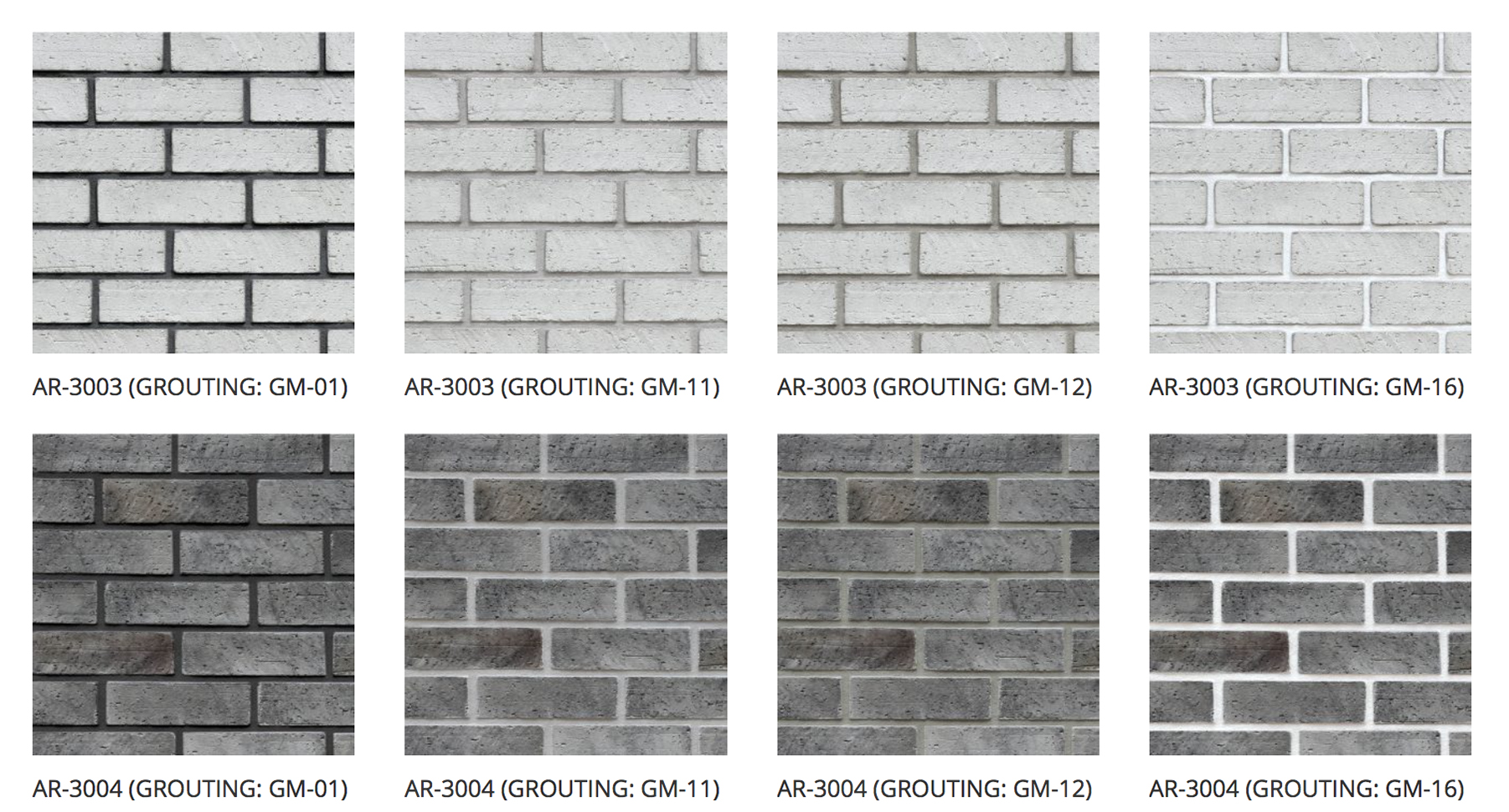 ---
For more on our KASTONE® Air collection, contact us at:
📞 +65 91830634 | 94897623
---
To view the KASTONE® Air product in person, visit our Showooms located at:
North Showroom
Nordcom II, #01-10 (Level 1 & 2), 2 Gambas Cres, S757044
Opens Mon to Fri, 11am to 7pm
Tel: +65 69097244
East Showroom
Oxley Bizhub 2, #01-38, 62 Ubi Rd 1, S408734
Opens Daily, 11am to 7pm
Tel: +65 64937217
---
Contact us for more information